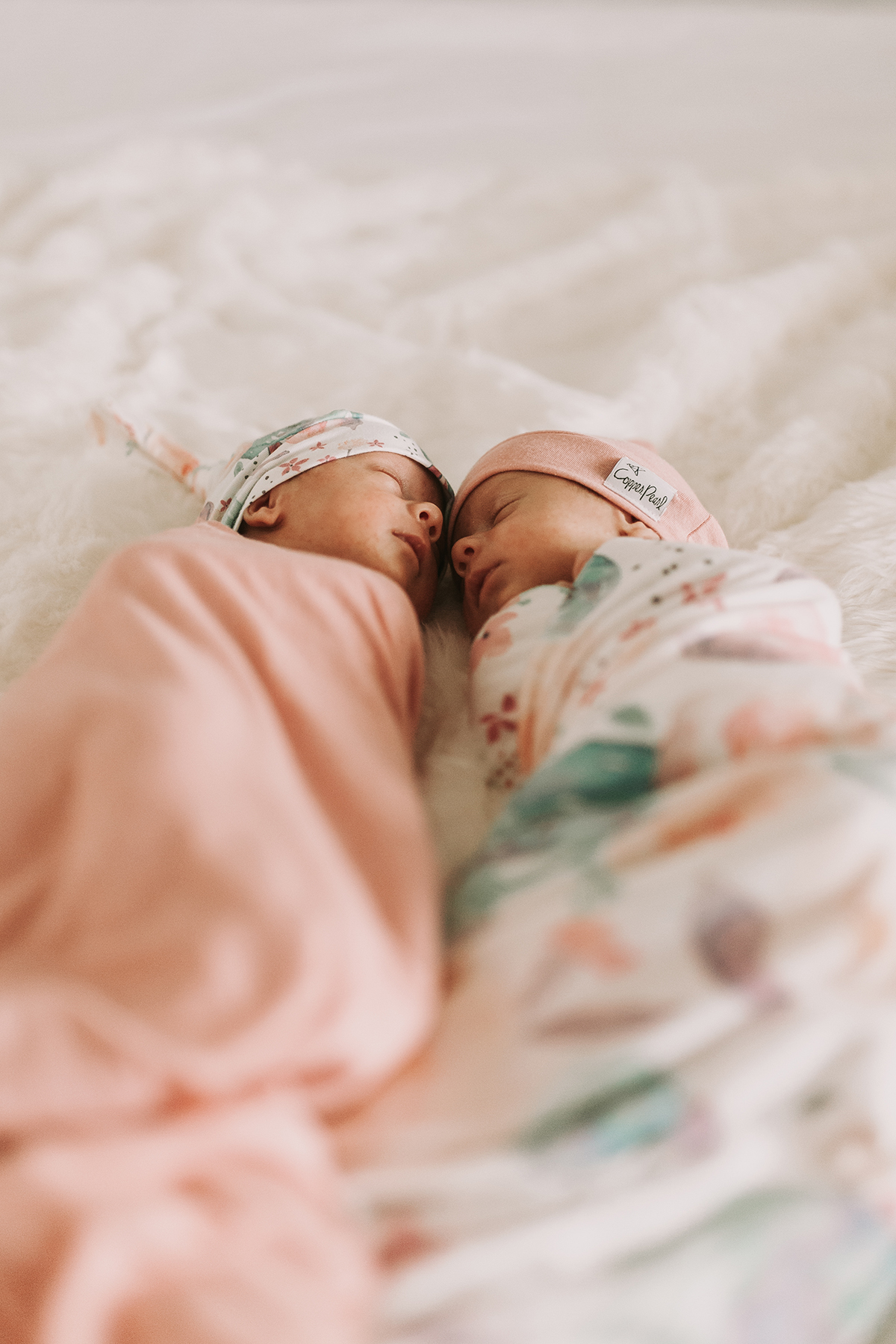 Chelsea Allred + The Story Behind
When shooting a newborn session, lets face it, those little bundles of joy are in complete control. They decide if they'll really make you work for it or not. Some just go with the flow and sleep through the entire session while others refuse close their eyes. So, it goes without saying that being a newborn photographer requires a lot of patience and creativity. When Chelsea Allred's two little models decided they weren't sleepy, she manage to take a different route and in return capture one of the sweetest and creative newborn images we've seen on IG. Read on to learn more behind the story of her image.
IG Handle:.
@chelsallredphoto
Where was this photo taken?
Las Vegas, NV.
How did the location add or hinder to your image?
I feel that this being indoors with poor(ish) lighting actually contributed to a super cozy vibe!
DSLR, iphone, instant or film?
Canon 5D Mark II with Sigma 35mm F1.4 ART lens.
What were your camera settings for this image?
f1.8, ISO 1000.
Can you tell us "The Story Behind" this shot?
These beautiful babies arrived almost 7 weeks too early, but perfect nonetheless. We had a hard time getting them to be calm, but once they were swaddled (in their adorable Copper Pearl gear) and near one another-they chilled right out. There's nothing like a sister! and being swaddled!
What speaks to you about this image? What specifically made you press the shutter?
The babies were both wide awake and very very squirmy previous to this shot. I had just been helping their mom coax them to calm, trying everything to get them to chill out. Mom really wanted those cute cuddly naked shots but it just wasn't happening. We thought we'd swaddle them just temporarily until we could get them back how we wanted them. Anyway, the swaddle was the trick, and they both chilled right out. Their perfect head placement leaning into each other was ALL them. They looked so cozy and peaceful, this ended up being the winning shot of the whole shoot.
What was your composition technique with this shot?
I feel like in a baby shoot, especially when swaddled, its hard to get a unique shot/angle. I wanted some decent depth of field which is why I sort of came from below instead of above looking down. I wanted symmetry, so I centered the babies in this image.
Did you have any lighting challenges/How did you light the image?
I did actually have some lighting challenges. I love shooting indoors but planning this shoot around the babies' nap time kind of put us in an awkward lighting situation. I had to bump up my ISO quite a bit and shoot in a wider aperture. I liked that we ended up with some natural grain and a darker/warmer SOOC image.
Did you use any special techniques – freelensing, prism, etc?
Not this time.
Was this photo happenstance or did you visualize it prior? If so, how did you envision the image and set up for it?
Totally happenstance. "Quick! They're being good!" lol
Did you use a preset to edit this image, your own selective edits or a combination of both?
I am always inspired by the presets that give off that "film" vibe. For this particular one, I started with an LXC preset by Tribe Archipelago combined with my own techniques/styles to make it my own.
Do you have any addition information you would like to share with our readers?
This is Millie+Maddy. We call them M&M. These baby dolls actually happen to be my beautiful, identical twin nieces.