Memories in motion with Sharon McKeeman
Reimagining the family home video with today's technology
Your family's story lives and breathes and moves. Remember the old home videos our moms and dads shot with bulky camcorders when we were growing up? We all watched them countless times to relive the most important events of our lives and the mundane moments that became treasured memories. Sharon has reimagined the family home video with today's technology and her eye for storytelling and creative exploration. In this class she will share techniques and practices that she uses to capture her own family's memories in motion and document clients' lives. Incorporating still photography, stop-motion, video, music, sound and editing, students will learn how to capture memories in real time so they can do more than just look back at a static image, but also hear and see the life they are living with the ones they love.
If you're looking for a fun way to explore a new medium, this course is for you! No prior video experience is required. This class is designed not to teach you advanced videography, but to use current technology to create a modern twist on the beloved family home videos you grew up with. It's a course created for personal fulfillment, enabling you to use the video tools you already have to create meaningful, high-quality, priceless video memories that preserve the sounds and motion of family life that you don't want to forget.
Workshop details
The workshop details are stated below. Please read them carefully as each workshop may be different.
Workshop Dates
November 5th – November 25th, 2018.
Next scheduled run date: TBD.
Pricing Information
Active seats | $250
Silent seats | $200
Active seats offer the full benefits of the online workshop: students get to participate within the workshop section, ask questions, email Sharon and get critique on their assignments where applicable. Active students will receive the PDF at the conclusion of the class with the information from the workshop.
Silent seats are read-along only. They will be able to view all of the workshop material but cannot ask questions, email Sharon or render critique on their assignments. However, a separate section will be available where silent students can interact with each other and post assignments if they choose. Silent students will also receive the PDF at the conclusion of the class with the information from the workshop.
Registration Details
Prerequisites
In order to participate in this workshop, you must be a member of the Bloom Forum. However, you do not have to be a forum member during the time of registration.
All you need are a DSLR with video capabilities or an iPhone and a computer. Both Mac and PC users can take this class. The editing software programs that will be covered are iMovie, Final Cut and Adobe Premiere Pro; all of which can be accessed for free during class by downloading a free trial depending on what type of computer you own.
Policies
In order to participate in this workshop, you must be a member of the Bloom Forum.  However, you do not have to be a forum member during the time of registration.
Once you register your PayPal receipt will act as your confirmation to the workshop.
If your Paypal email address is not your daily contact email, please contact Sharon at CONNECT@SHARONMCKEEMAN.COM and let her know. The only email she will have on file is your Paypal one and that will be the one she will use to contact you unless otherwise noted.
No refunds are given once a seat is purchased, however, you can sell your seat on your own.  If you do, please get in touch with the teacher and advise her/him of the seat transfer.
The workshop will be open for two months after the workshop ends for students to gather and save information.  Please note that the teacher will not be available to answer questions during this period.
If you have any questions regarding the content of the workshop, don't hesitate to email the teacher.  For all other questions, please feel free to send us an email at EVERYTHINGBLOOM@GMAIL.COM.
Course syllabus
This is an online interactive workshop where students work at their own pace within the allotted workshop dates. With all Bloom Workshops, students are not required to log in at specific times of the day so no worries if you reside in another country, people from all over the globe participate in our workshops.
Week One
TOPICS THAT WILL BE COVERED:
-Photography collage & stop-motion
Week Two
TOPICS THAT WILL BE COVERED:
-Video shooting, editing & adding sound
Week Three
TOPICS THAT WILL BE COVERED:
-Family home video creation practice & finishing with titles and credits

This class gave me just the push I needed to start creating videos for my family. Before taking this course, I had never touched the movie button on my Mark iii. To be honest, I was a little afraid of it. Because of Sharon's expertise and encouragement, I am now regularly creating and editing videos and capturing a part of our story I hadn't before. Sharon creates a genuine, supportive classroom right out of the gates. I felt comfortable asking her questions (and I asked A LOT) and was super encouraged by her feedback. There's something so magical about seeing my family on video. Their voices, their movements, the connection between them. I am so glad I took this course, and just in time for the holidays!
Rachel

This class was excellent and gave me everything that I needed to start creating mini-movies for my family. Shannon was incredibly open and I learned how to use more than one platform for making movies. This class inspired me to dive into creating movies that I will cherish forever.
Bree Hester
Meet Sharon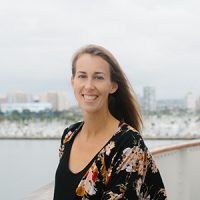 Sharon currently calls Southern California home although she is originally a mid-western girl. She fell in love with image-making while reading her grandparents' old National Geographics and watching slideshows of their trips across the West on their old film projector. She earned a bachelor's degree in art education, and has been committed to education since then, first picking up a DSLR after her children were born. Wanting to capture the messy beauty of life as a mother, she traded her paintbrushes for a camera, documenting her own family and her clients' lives, and inspiring other photographers with her classes. Sharon is also a writer who contributes to various online and print publications including AGLOW MAGAZINE, WILD+ FREE COMMUNITY, DEEPLY ROOTED MAGAZINE and DRIFT JOURNAL. She shares on her blog about her journey as a homeschooling mama to three boys and life with her awesome hubby.