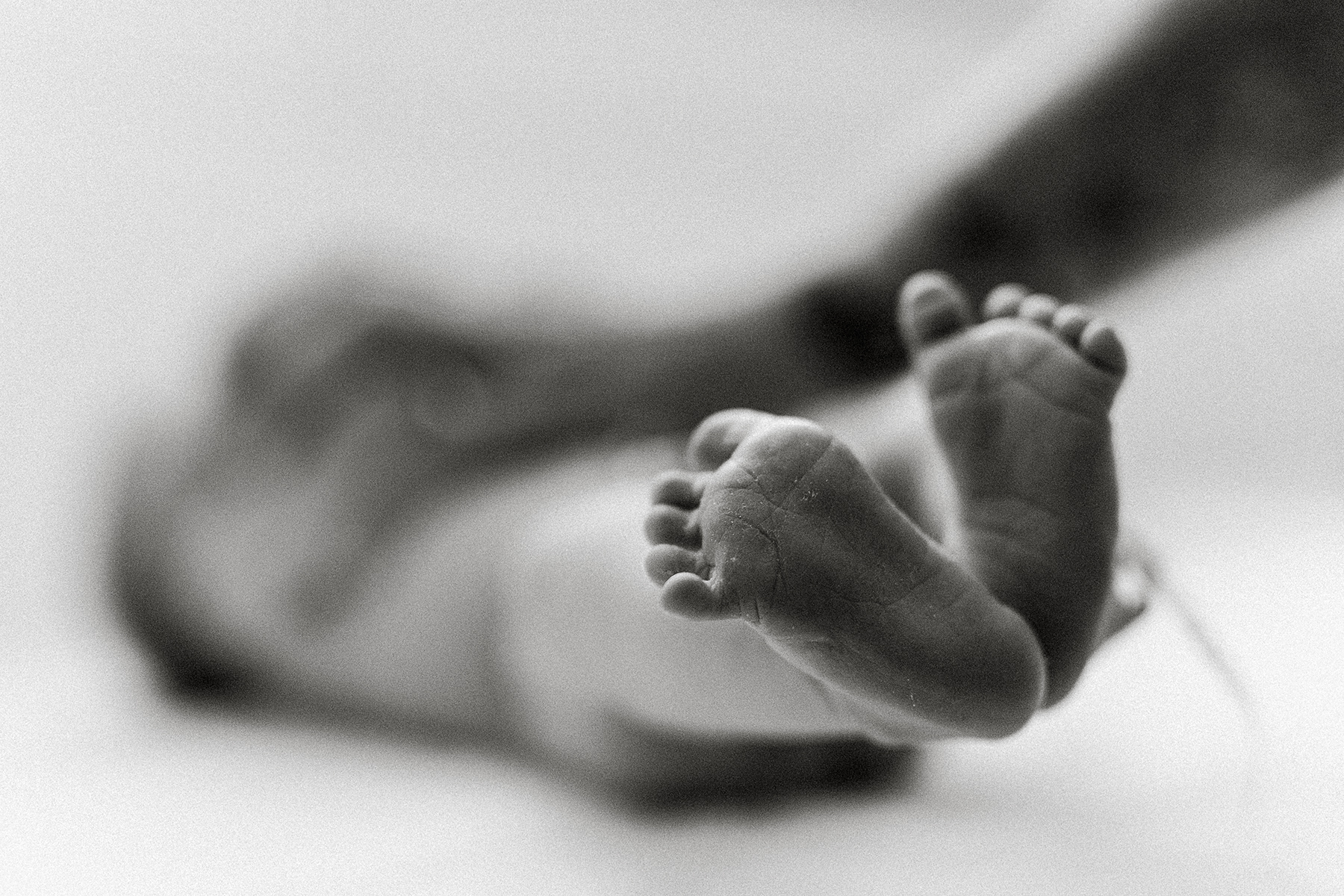 Anya Ponti + The Story Behind
WOW! All we can say is that we have been inspired by all of you that share your images with us in our IG tag. Y'all have really been blowing us out of the water with your creativity! For example, Anya made a lasting impression on us with her exceptional newborn image by shooting so wide open that all the focus is on those wee tiny feet. That fused with the impressive b/w conversion and the beautiful grain, you can see how we were smitten.
We are so excited to have Anya on the blog today for our series The Story Behind so she can tell us a little more about the story of her charming image.
IG Handle:.
@anyamariaphotography
When did you discover your passion as a photographer?
I've always had a passion for photographs, but only after buying my first DSLR in late 2008 did I truly discover my passion for photographing life. The purchase of the larger camera came after attending my sister's wedding in Italy in September 2008 and coming home with only a handful of blurry, out of focus, overexposed images from that special day. Knowing I wanted more from my children's childhood memories, I made the jump and purchased my first DSLR and with that jump came the discovery of my passion. Along with my passion for photography, I have a strong passion for printed photographs, as I know that is all we will have left one day is our printed memories.
What inspires your art?
People & life. No matter the walk of life one may be journeying through, I love capturing people, their love, the connection they share with those closest to them and their energy. The exchange of energy shared during my time with my clients is my main source of inspiration, along with location and light. I always tell my clients, location matters only slightly, as my main focus is always them.
Where is your favorite place to create/photograph?
I've traveled the world for the last 10 years photographing families and babies in so many different locations and lighting situations, it's truly the people and moments shared in the photos that makes anything a favorite.
Tell us about your creative process.
I learned a couple of years into my photography journey after different education opportunities about the power of presence. At the beginning whilst still learning, I used to set out to capture certain images and found that more often than not, I was failing and so disappointed about the images I hadn't captured, rather than focusing on the ones I had. When I finally allowed every session to be a clean slate to start fresh from, I learnt to trust myself, trust my technical knowledge as well as my artistic vision; allowing my clients, with a little guidance, to show me their unique family moments and capture them honestly, naturally and with meaning. Life inspired 🙂
Where was this photo taken?
This photo was taken in hospital at a fresh 48 session.
DSLR, iphone, instant or film?
DSLR | Nikon D5 | Sigma 50mm ART lens
What were your camera settings for this image?
f1.8 and 1/400th sec. with an ISO of 1250
Can you tell us "The Story Behind" this shot?
Mum and Dad wanted to capture baby's first bath (baby was just 24 hours old) and this was the moment little Hudson was pulled from the bath and laid on the towel.
What speaks to you about this image? What specifically made you press the shutter?
I know how fleeting and at times foggy those memories of your child's first hours and days can be; the big yawns, many stretches, flaky peeling skin and every one of these details and moments captured, helps bring them back to those days. There's nothing quite like a set of fresh baby feet and toes.
What was your composition technique with this shot?
Rule of thirds. I wanted all focus on the beautiful baby feet, whilst still including all the baby in the background.
Did you have any lighting challenges/How did you light the image?
Lighting challenges in hospital are many, most commonly the lack of light. Thankfully most, if not all modern cameras handle high ISO well and given I love grain 1250 was an easy choice.
Did you use any special techniques – freelensing, prism, etc?
No.
Was this photo happenstance or did you visualize it prior? If so, how did you envision the image and set up for it?
This was captured in the moment and unexpected; which is usually the story behind many of my favourites. The power of presence and being ready for what comes, unleashes a world of opportunities.
Did you use a preset to edit this image, your own selective edits or a combination of both?
I've developed my own presets over the years and my BW originally started from VSCO tri-X 400.
Do you have any addition information you would like to share with our readers?
As photographers we often get a little flustered with the technical precision of an image, checking it at 100% whilst editing and culling anything that's not "the best". Over time in my business and personal photography, I've learnt that moments matter more than perfection and your artistic self will thank you for accepting the imperfect; where true honest beauty lies.
Continue to follow more of Anya's inspiring work at the links below:
SITE | FACEBOOK