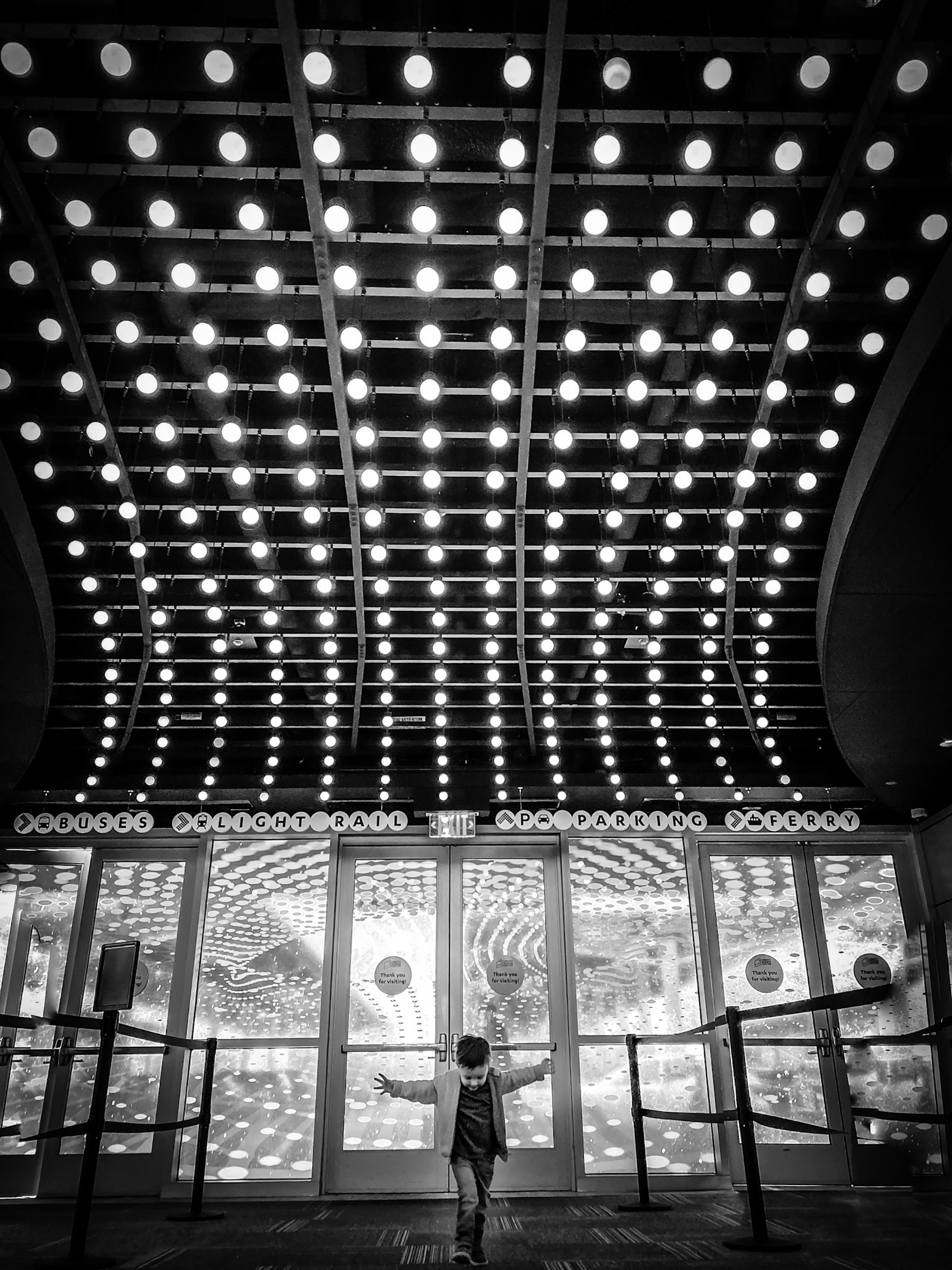 Gabrielle Alexander + The Story Behind
We are so excited to have Gabrielle on the blog this week in our The Story Behind series. When we saw this photo in our IG tag, it immediately stopped us in our tracks (aka, stopped scrolling). We LOVE, LOVE, LOVE the leading lines of the lights point to her little subject. We were shocked to find out that it was taken with her iPhone! It just goes to show that you can create extraordinary photos with what you have on hand so don't miss an opportunity to take a photo just because you don't have your professional camera with you. Keep reading to learn how this image came to life.
IG Handle:.
@gabriellerosealexander
When did you discover your passion as a photographer?
In high school I went to a lot of shows- local friends bands, indie bands- music really introduced me to the beauty of photography. I minored in photo in college, only working in darkrooms developing and printing my own film. I didn't get really into a continous practice of shooting until I became a mom- my son reignited my passion for capturing moments.
What inspires your art?
Color and light. Seeing the world from where my child sees it, and capturing fleeting emotions very candidly. There needs to be a mood, positive or negative to inspire me to grab my camera.
Where is your favorite place to create/photograph?
I really love shooting in my own home (we are very fortunate, we have a lot of windows and get fantastic light), or out in nature. My husband's family is from Maine and everywhere I go there is a gorgeous background or something to spur curiosity.
Tell us about your creative process.
I'm usually down on at his level trying to capture his expressions, and wonder of the world from his perspective. Or I'm going for wide angles looking to see him how he is in the frame of everything around him. I try to embrace shadow and light, and I never pose anyone I shoot- I honestly try for it all to be as natural as possible and so in that way I'm not the photographer for everyone. I won't line up a family and feel like I'm getting something that I consider a worthwhile capture.
Where was this photo taken?
This photo was taken in the entrance of Liberty Science Center in Jersey City, NJ. We live really close and used to go all the time (before COVID).
DSLR, iphone, instant or film?
iPhone | 11 Pro Max
What were your camera settings for this image?
Just my iPhone camera.
Can you tell us "The Story Behind" this shot?
We were leaving the science museum and the entrance has this beautiful lighting display on the ceiling. My son has always loved lights, and he was very into airplanes at the time so he saw all the lights and colors and just started pretending he was an airplane, going back and forth in the entryway.
What speaks to you about this image? What specifically made you press the shutter?
The light display on the ceiling and it's reflection in the glass doors made it look like just one huge hallway of never-ending lights, it was beautiful! The fact that my son saw it and imagined it was a runway was just too precious and pure not to try and capture.
What was your composition technique with this shot?
I wanted to get as much of the light installation on the ceiling as I possibly could, so I got down really low on the floor. The employees and parents probably thought I was a total weirdo but I knew the backdrop was the key to capturing it the way I wanted, with him right at the center and the curves of the installation framing each side.
Did you have any lighting challenges/How did you light the image?
The only challenge I had with this image- besides getting my son to run straight toward me a couple times- was the other people in the frame. There was no way to shoot it without a few others in the frame so I had to remove them afterwards when I edited.
Did you use any special techniques – freelensing, prism, etc?
No I didn't.
Was this photo happenstance or did you visualize it prior? If so, how did you envision the image and set up for it?
I was fortunate, this was complete happenstance and I love that it was. I wouldn't be against going back and trying to shoot in that entryway again though.
Did you use a preset to edit this image, your own selective edits or a combination of both?
I did use one of the B+W presets from Tia Costello before tweaking it myself. Her photography handle was @the.dailylens but that account and her website have been deactivated as of late.