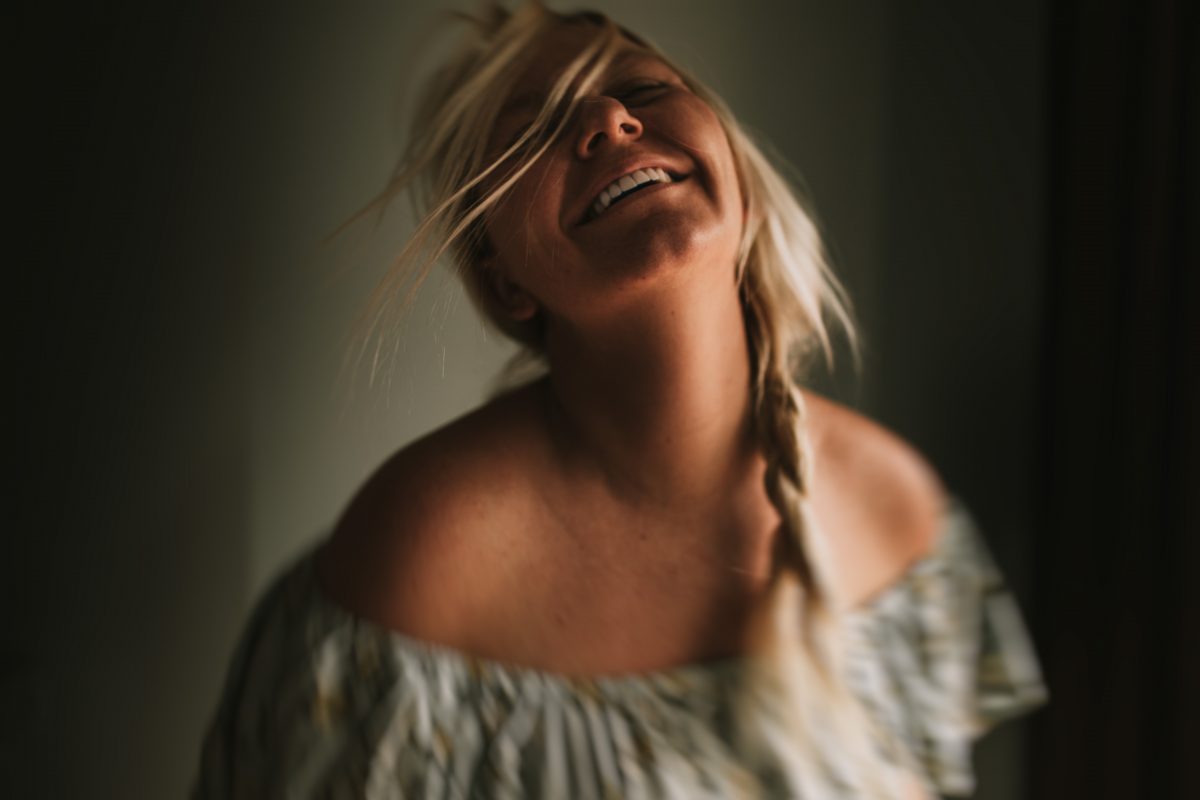 Janel Peyton + The Story Behind
Self portraits can be real tough exercise for a photographer. In fact, most of us are behind the lens because we feel most at home there. Once you get one of us on the other side of the lens, the voices start: Am I even in the frame? What do I look like? What am I supposed to do with my face? eyes? hands? We can't help it, as orchestrators of photographs it's hard not knowing what's showing on the other side. We love this joyful shot from Janel Peyton but when we found out it was a self portrait, we were doubly impressed. Once you find out her inspiration behind this gorgeous frame, I'm sure you'll find her and her work as endearing as we do. Thank you for your openness Janel, you've inspired us to get back on the other side and give it another go.
Can you tell us "The Story Behind" this shot?
While I was taking some self portraits for a project I'm working on, my oldest son asked me if I thought I was pretty. As with most women, my immediate thought was to think of all my flaws. I wanted to tell him 'yes,' but all I could think about were the negatives. So I responded with "sometimes." He looked at me and sighed and then said, "You are prettiest when you laugh. I like your laugh." He instantly made me feel beautiful. So this image was for him. Although, it means so much to me as well and I will always remember the moment he made me feel like the most beautiful woman in the world. His future wife is going to be such a lucky woman to have him.
DSLR, iPhone, instant or film?
DSLR: Canon Mark IV, Sigma 35MM 1.4 ART lens
What were your camera settings for this image?
35mm, ISO 100, F1.4, 1/320
What speaks to you about this image? What specifically made you press the shutter?
The freeness of this shot is what speaks to me– it's the letting go of control, the letting go of my misconceptions about myself, the letting go of perfection.
I pressed the shutter because I wanted my son to always remember me like this. And for me to always remember how my son thought about me.
Did you have any lighting challenges/How did you light the image?
This image was taken in my guest bedroom. To my left is a sliding glass door. I had the curtains mostly closed with only a little bit of light coming through them enabling me to darken the room around me, yet keeping me lit for the photograph.
Did you use any special techniques – freelensing, prism, etc?
No. I simply just rocked back and forth during the shot to get a little feeling of movement.
Was this photo happenstance or did you visualize it prior? If so, how did you envision the image and set up for it?
It was completely happenstance. I went into this self portrait session with the idea that I'd take some photographs with my son. I set my camera on a tripod and used the Canon Connect app as a remote shutter. I did take several with him that I will cherish, but it wasn't until my son asked me that simple question about beauty that this image was born.
Did you use a preset to edit this image, your own selective edits or a combination of both?
I typically start my edits with the preset by LXC, but I tweak them dramatically. I shoot very warm. My kelvin is typically over 6000, which is crazy to most people, but I love a very warm image. When I add the preset to that, though, it often adds a greenish haze that I have to edit out. I also increase clarity and shadows. For this image, I cloned out the glass door on my left and made it appear to just be a dark background. But I never photoshop my skin for self portraits. Mostly because I feel like in 40 years, I'll be looking back and if I see perfect, blemish free skin, I'll scold myself for not being true to myself. This is 33. Wrinkles, scars, dark circles, smile lines… it's life and that should remain.
Self portraiture is no easy feat. What draws you toward this subject matter?
I am a huge encourager of woman portraiture, specifically self portraiture. I feel like women tend to devalue the beauty in themselves and through this type of art, it really allows women to dig deeper into who they are, how they appear and how they feel in this moment of time. Self portraiture is a therapy of sorts. I would highly encourage all women to step in front of the lens and allow yourself to be vulnerable and just be. You will surprise yourself with how much beauty is right there in your own skin.
Janel Peyton is based out of St. Louis, Missouri and she and her art can be found:
SITE // FACEBOOK // INSTAGRAM