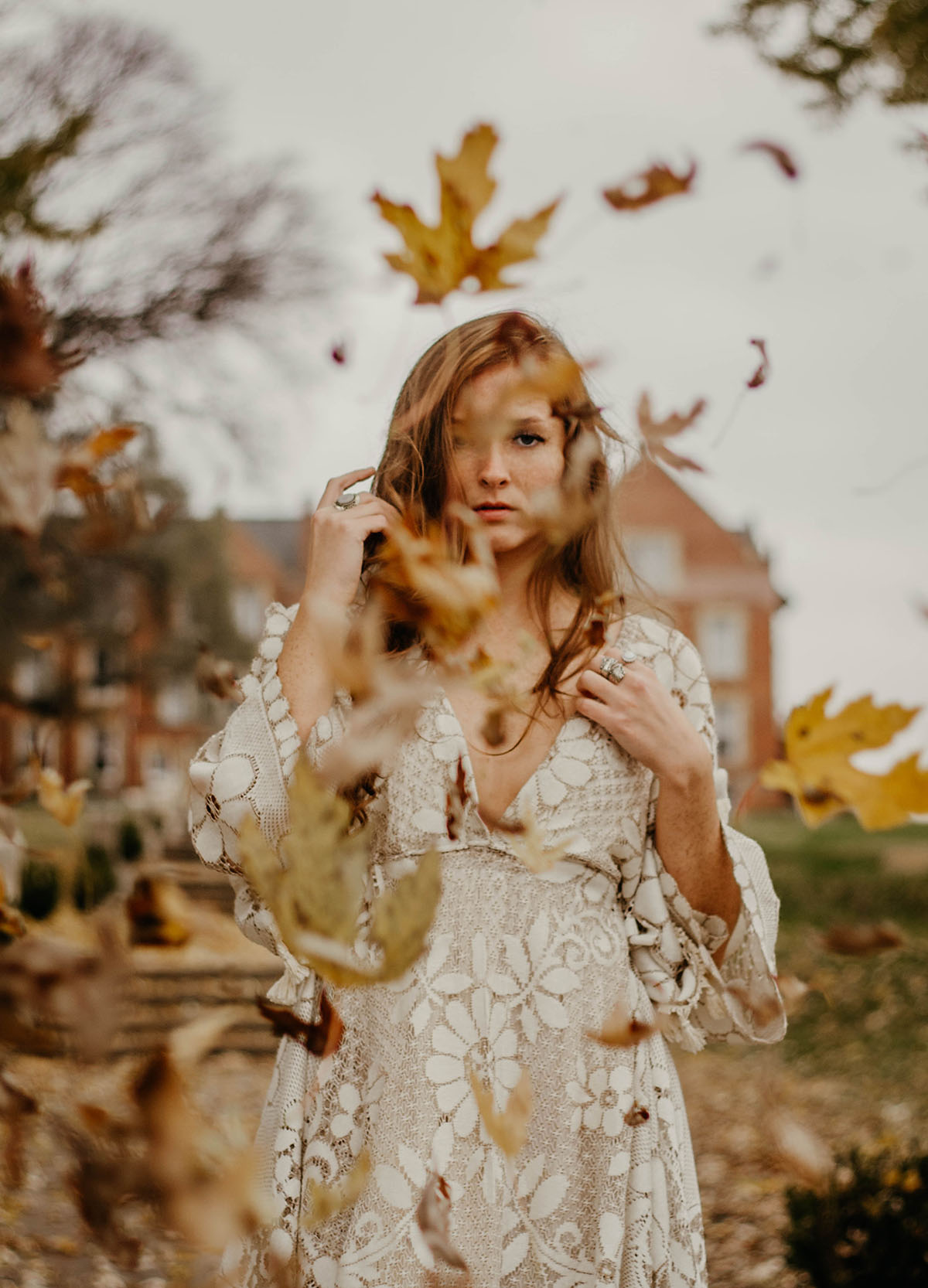 Jessika Hill + The Story Behind
If you haven't tried a themed photoshoot, what have you been waiting for? They are fun to put together and it definitely gets your creative juices flowing. Jessika proves that with her photo above because when we spotted it in our IG tag, we were taken by how "outside the box" it was. The leaves in the forefront and the haunting stare from her subject keeps the viewers gaze. We are happy to share more about this photo in Jessika's own words.
IG Handle:.
@jessikachristinephoto
Where was this photo taken?
Belvoir Winery in Liberty MO.
How did the location add or hinder to your image?
The location was the inspiration for the entire session! Belvoir Winery has beautiful buildings, and some of them are even abandoned! The walkway up to the first building is gorgeous and is filled with trees that have rich yellow leaves in the fall. These leaves are what make the image so special!
DSLR, iphone, instant or film?
Canon 7D shot with a 50mm f/1.8 lens.
What were your camera settings for this image?
1/640, ISO 250 and f/2.5
Can you tell us "The Story Behind" this shot?
This entire session was inspired by a show on Netflix called The Haunting of Hill House. In this particular shot the building is blurred, so it's harder to see the similarities to the show, but Leslie's expression is inspired by Nell. I don't want to spoil anything, but if you've seen it I'm sure you can see Leslie as Nell towards the end of the show. The leaves added an extra punch to this image. I wanted to make it even more intense, by having Leslie stare through them.
What speaks to you about this image? What specifically made you press the shutter?
The model Leslie is looking straight through the leaves which is what I wanted from the image. It honestly took us a few tries, but when I saw this image happen I knew I had it!
What was your composition technique with this shot?
I didn't have any composition techniques with this photo. I was really going for more of a wild look!
Did you have any lighting challenges/How did you light the image?
No, the lighting was great that day. It was cloudy so the sky was a perfect soft box.
Did you use any special techniques – freelensing, prism, etc?
Just throwing leaves in front of the lens!
Was this photo happenstance or did you visualize it prior? If so, how did you envision the image and set up for it?
I did visualize it beforehand. I envisioned Leslie staring through the leaves right at me. I wanted her expression to be a little more intense than a typical throwing leaves photo, because of the story behind this session.
Did you use a preset to edit this image, your own selective edits or a combination of both?
I used a preset by Ladybyrne presets and adjusted it to my liking.
Do you have any addition information you would like to share with our readers?
This photo is inspired by The Haunting of Hill House! The character Nell was our inspiration for the photo. We imagine this photo being taken towards the end of the show. Her character goes through a lot. I wish I could explain it, but I'd hate to spoil the show for anyone!
Continue to be inspired by Jessika at the following:
SITE | FACEBOOK