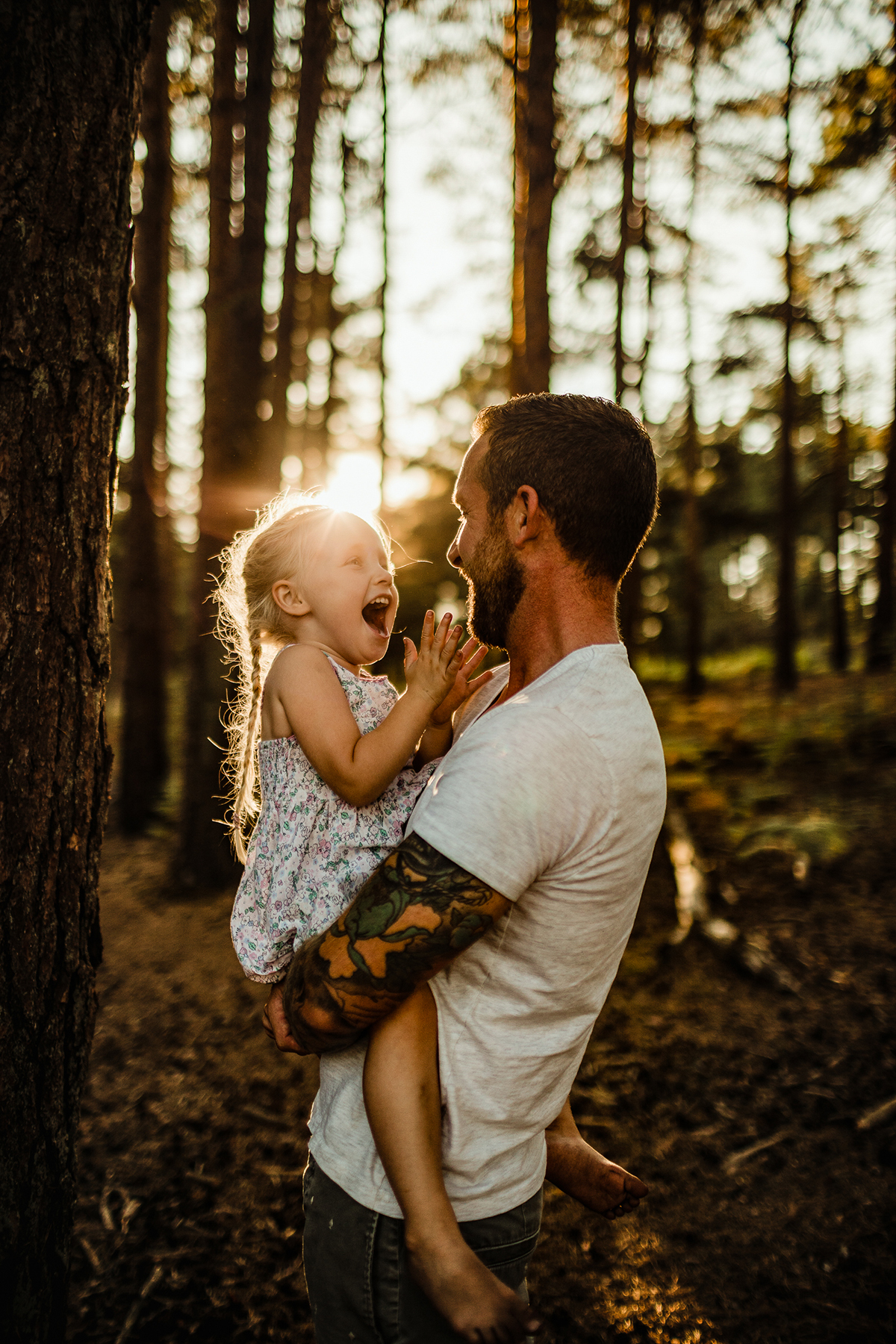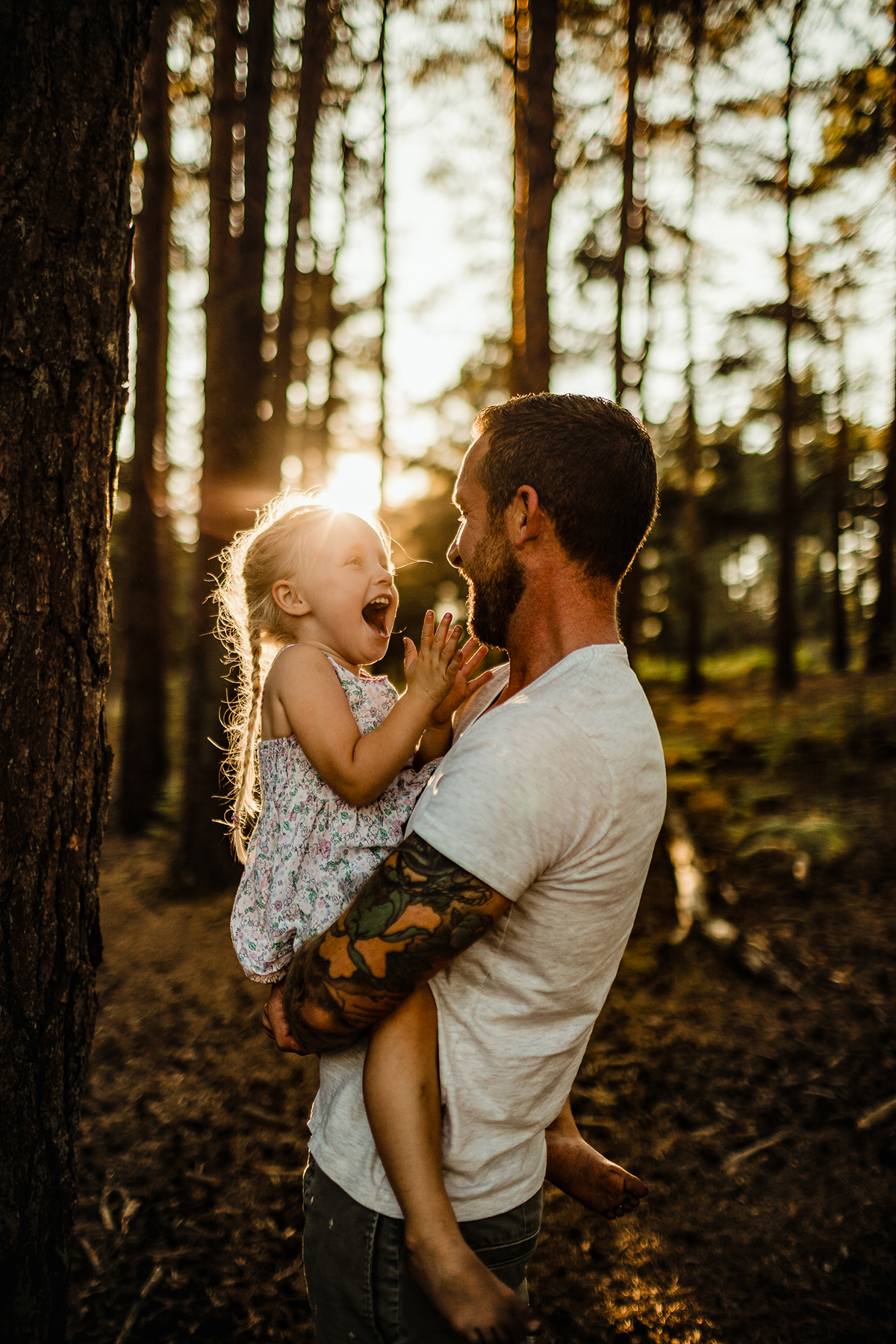 JoJo Cooper + The Story Behind
As you know, light is a photographer's best friend. It can take a mundane photo to extraordinary. Knowing how to manipulate it is a must to stand out above the crowd. If you look at JoJo's work, you'll quickly see she plays with light like no other. It doesn't matter if she's shooting a session indoors or chasing kids outside, she manages to find pockets of light that then leads to creative plays on highlights and shadows. So when we spotted this photo from her, we just had to know more about it.
IG Handle:.
@jojocooperphotography
Where was this photo taken?
I love this location! It's in the middle of some heathland about an hour and a half from central London, 30 minutes from my home in the Surrey Hills. It has everything, a small lake, evergreen pines, sandy pathways and beautiful expanses of heather in the late summer.
How did the location add or hinder to your image?
I shoot here all year round at both ends of the day as there is so much variety for client galleries. On this occasion, we were shooting at sunset which works so well here as the tall pine trees are great for playing with sun flare.
DSLR, iphone, instant or film?
DSLR Canon 5D IV with 35mm lens.
What were your camera settings for this image?
1/1250, f1.6, ISO 100
Can you tell us "The Story Behind" this shot?
I had a client recently who thanked me for giving her back the feeling of love and connection with her children through their photographs. She had become so lost in the day to day hum drum of looking after her large family, she hadn't taken time to stop and just have fun. She said that capturing the fun we had during her session enabled her to relive those moments and feel a little lighter in her heart when things were getting her down. As a photographer, what better compliment could you be paid?
My main focus in family sessions is to make it fun for the children, if they're having fun, parents relax and the whole thing works. We had just walked up the hill to catch the sun before it disappeared and found this spot amongst the pine trees where the sun was filtering through, it was stunning. Mum and her little boy were a little behind us so we grabbed a few shots before they caught up, there are a few more in the series which I'll post on the blog.
What speaks to you about this image? What specifically made you press the shutter?
The light! I knew I wanted the sunlight to be a prominent feature of the image so as they played together I was ducking and diving a little to try and catch a little sun flare without it blowing out their faces. I adore the happiness and joy in her expression and even though dad's face is not wholly visible, his love is obvious. We had been playing in the sand just before and her feet were a little dirty which I love as it speaks of childhood and the freedom to play in nature.
What was your composition technique with this shot?
I wanted to include some of the tall trees in the background and keep a sense of their height but keep close enough to stay focused on the expressions of dad and his daughter. By positioning them directly in front of the sun and the sun between the two trees in the background, everything was in alignment to get the look I wanted.
Did you use any special techniques – freelensing, prism, etc?
No, although I would love to give them a try!
Did you have any lighting challenges/How did you light the image?
If I'm honest, it took me a while to get to grips with backlighting subjects with the sun on my journey as a photographer (counting on sunny sessions is tricky here in the UK). The challenge is in diffusing it somehow with trees or the subjects themselves, particularly, as in this image, they were moving around a lot making the light changes many and rapid!
Was this photo happenstance or did you visualize it prior? If so, how did you envision the image and set up for it?
I had shot in this spot before but it was a little earlier in the day so the sun was a bit higher. I purposely came back to it with this session to see what happened with the sun lower in the sky. We almost missed it, within minutes it had gone. I originally envisaged this part of the session to be quiet cuddles with the parents and children as they were getting tired but as you can see it went the other way!
Did you use a preset to edit this image, your own selective edits or a combination of both?
After messing around with different styles over the years, I now love my images to be full of richness and warmth and have created some Lightroom presets of my own to speed up editing workflows.
Do you have any addition information you would like to share with our readers?
Nothing fills my creative boots more than taking slightly nervous clients who state categorically that they are 'Not photogenic AT ALL' who then finish the session with 'That was so much fun!'. The best part is handing them a set of images they love having captured their family being relaxed and natural. I have worked with this family a few times before as the children have grown up so there were no nerves, well, on their part anyway. Even after twelve years of photographing newborns and older families, I still get jittery before a session, it's the excitement of the unknown and not knowing what's about to unfold. If you've done the legwork in preparing your clients, the light and the location, you can just let the magic flow. I always think it's a bit like an artist standing in front of a blank canvas, when the first brush stroke has been made, the rest takes shape.
Surrey Family Lifestyle photographer JoJo Cooper can be found at the following spots:
BLOG // INSTAGRAM // FACEBOOK