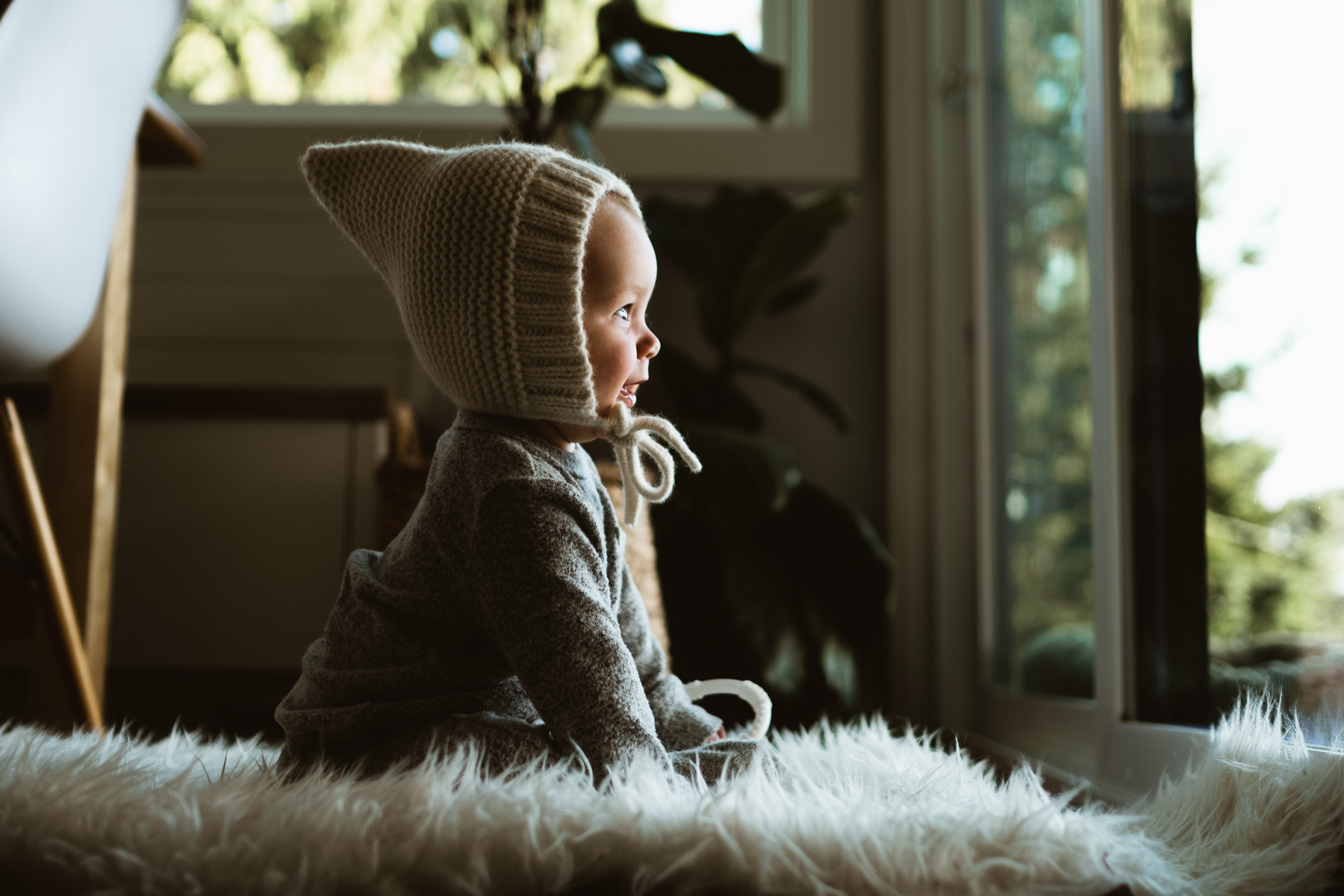 Leah D'Ambrosia + The Story Behind
Happy New Year everyone! We can't think of a better way to kick off 2020 and our The Story Behind series than with this cute little number from Leah! The second we spotted it in our IG tag feed, we knew we wanted to learn more about it and how it came to be. So of course we reached out to Leah and were giddy when she was up for being part of our series. So without further ado, let's give Leah a big Bloom welcome!
IG Handle:.
@leahda
What inspires your art?
Beautiful light, everyday moments, authentic expressions, pretty much everyday life captured in beautiful light. I can't help but see photographs in my head as I watch my kids explore the world around them.
Where was this photo taken?
This photo was taken in our kitchen nook that has a large sliding glass door out to our backyard. We live in Seattle, WA.
How did the location add or hinder to your image?
I am obsessed with window light, I love how the light illuminates the subject and softly falls away to the shadows.
DSLR, iphone, instant or film?
DSLR | Fuji X-T30 and shot with a Fujinon 23mm 1.4R.
What were your camera settings for this image?
ISO 500, f1.6, 1/950 sec.
Can you tell us "The Story Behind" this shot?
I had moved my daughter Luna over by the sliding glass door so she could look out the window while I cleaned up the kitchen. Once I had her placed I noticed how beautiful the light hitting her face was and went and grabbed my camera. I moved a couple toys out of the way and popped my favorite bonnet on her head and took about ten images of her sitting there.
What speaks to you about this image? What specifically made you press the shutter?
What spoke to me was the depth of the lighting, the bow from her bonnet tucked under her sweet little chin, but more than anything was her expression. She had just learned to sit up the day before and was so proud of her new achievement, now it's a precious memory that I now have beautifully documented.
What was your composition technique with this shot?
My composition technique was to center focus. I really didn't care if anything else was in focus, I just wanted to get a sharp image of that sweet little face.
Did you have any lighting challenges/How did you light the image?
Not really any lighting challenges, I have grown quite accustomed to photographing my kids indoors, I do my best to capture them when their face is towards the light and expose for the highlights. I also don't shy away from high ISO so that my shutter speed can be fast enough to prevent any blurring.
Did you use any special techniques – freelensing, prism, etc?
I didn't use any special techniques for this image.
Was this photo happenstance or did you visualize it prior? If so, how did you envision the image and set up for it?
I would say it was happenstance, as I said previously I had just put her by the window to give her something to look at and then made a few adjustments once I realized that I wanted a photo of her there. This is how a lot of my images happen, I notice the kids in a a pretty patch of light and will grab my camera. My three year old son moves quickly so if he moves out of the spot that I was hoping to capture I will gently encourage him to go back there for a second. I usually get only a minute and a handful of images before he is out of there!
Did you use a preset to edit this image, your own selective edits or a combination of both?
I use my own preset that I made based off one of Ben Sasso's presets.
Do you have any addition information you would like to share with our readers?
I think one thing that I have found interesting in my photography journey is that I used to hate shooting indoors. I always felt like golden hour was the only place I could get the beautiful light I was looking for, but I have realized that you can pretty much find compelling light in any environment. You just have to develop an eye for it through practice and experimentation!
Continue to see more of Leah's beautiful work at the following: WEBSITE