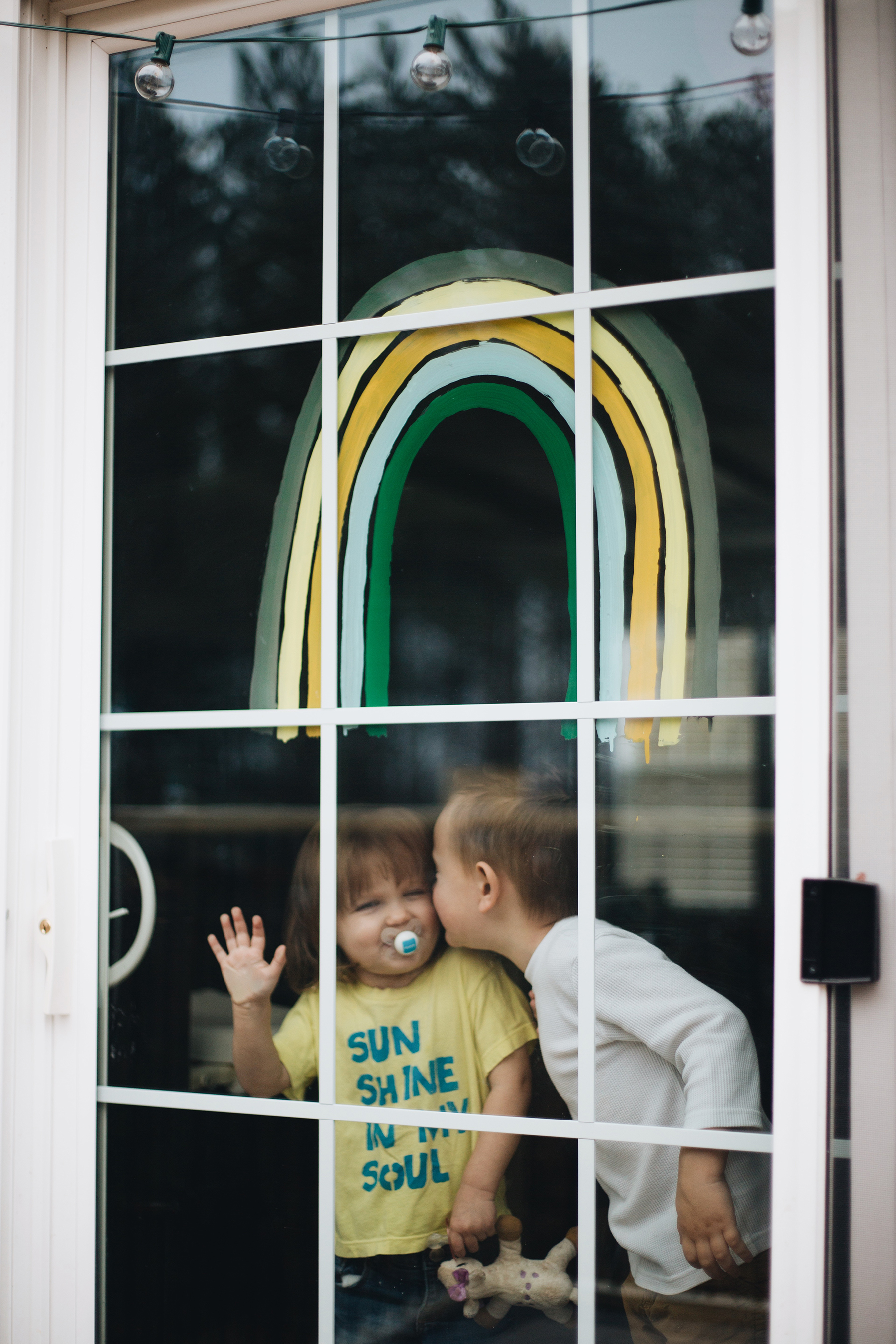 Monica Ketchum + The Story Behind
We think we can all agree that 2020 has challenged us. We've been tested by COVID-19 and we have witnessed things that have shocked and moved us, from the horrible death of George Floyd to all the protests and people standing together to forge change. We are hurting with the Black Community and POC so please know that we stand with you.
When we spotted Monica's photo in our IG tag feed, we shared it back at the height of COVID-19. Rainbows became the symbol of hope when so many people we hurting and let's face it, scared. We feel the same can also be true for what is happening right now across America and all over the world. It's funny how a little symbol can signify so much hope to so many people. So let's give a big warm welcome to Monica as she is our featured artist in this week's installment of The Story Behind.
IG Handle:.
@monicajketchum
What inspires your art?
I think the simple and complex answer to this is: humanity. I'm inspired by people, by love, by my kids and the joy that flows from them (most of the time!) I'm inspired by emotion, everything from happy to sad, joy to sorrow, excitement to grief, all emotions are part of our story and those, along with kindness and people give me reason to create every day. This photo was specifically inspired by #LetsAllBeWell and for encouragement to others to remain hopeful during this time.
Where was this photo taken?
This rainbow photo was taken in our house, with acrylic paint and dish soap painted on the slider door.
How did the location add or hinder to your image?
We are all safe at home, so the house (and the deck I'm standing on) definitely enhanced the image.
DSLR, iphone, instant or film?
DSLR | Canon 5D Mark III | 50mm lens.
What were your camera settings for this image?
Manual, f/1.8.
Can you tell us "The Story Behind" this shot?
#LetsAllBeWell swept the nation and we wanted to be involved, too, to inspire others, to share the love, to provide hope. The kids were so excited to stand on their stools to be in the shot (and suckers for motivation may have been involved!) I took a series of snaps of this, but this, them being joyful together, loving each other, meant the most to me.
What speaks to you about this image? What specifically made you press the shutter?
Their raw emotion. The way, for even a moment, this photo captured the love they have toward each other. I thrive on documenting those moments, and although they are not as often as I'd like, when they present themselves, it's a simple thing that keeps me going. This image keeps me going. It's full of promise and hope and future.
What was your composition technique with this shot?
I wanted reflection of the glass without seeing me in it, and also to make the rainbow the main subject. The kids obviously added a lot of 'happy' to the shot and I think it all came together well.
Did you have any lighting challenges/How did you light the image?
I didn't have any challenges with light persay. The biggest challenges were the behaviors of the tiny humans 🙂
Did you use any special techniques – freelensing, prism, etc?
No.
Was this photo happenstance or did you visualize it prior? If so, how did you envision the image and set up for it?
I definitely had a vision for it, although I was hoping for clouds in the reflection, I like how it turned out without. I had to use bribing so it was definitely a vision.
Did you use a preset to edit this image, your own selective edits or a combination of both?
I make sure all of the photos I shoot are corrected in photoshop (if color, white balance and exposure aren't perfect SOOC) prior to edits, that's the most important part. Then I run through VSCO mostly, editing the exposure and contrast as needed after a filter (a6 for this one) is applied and adjusted accordingly.
Continue to follow Monica's inspiring work at the links below:
SITE | SITE | TWITTER | INSTAGRAM