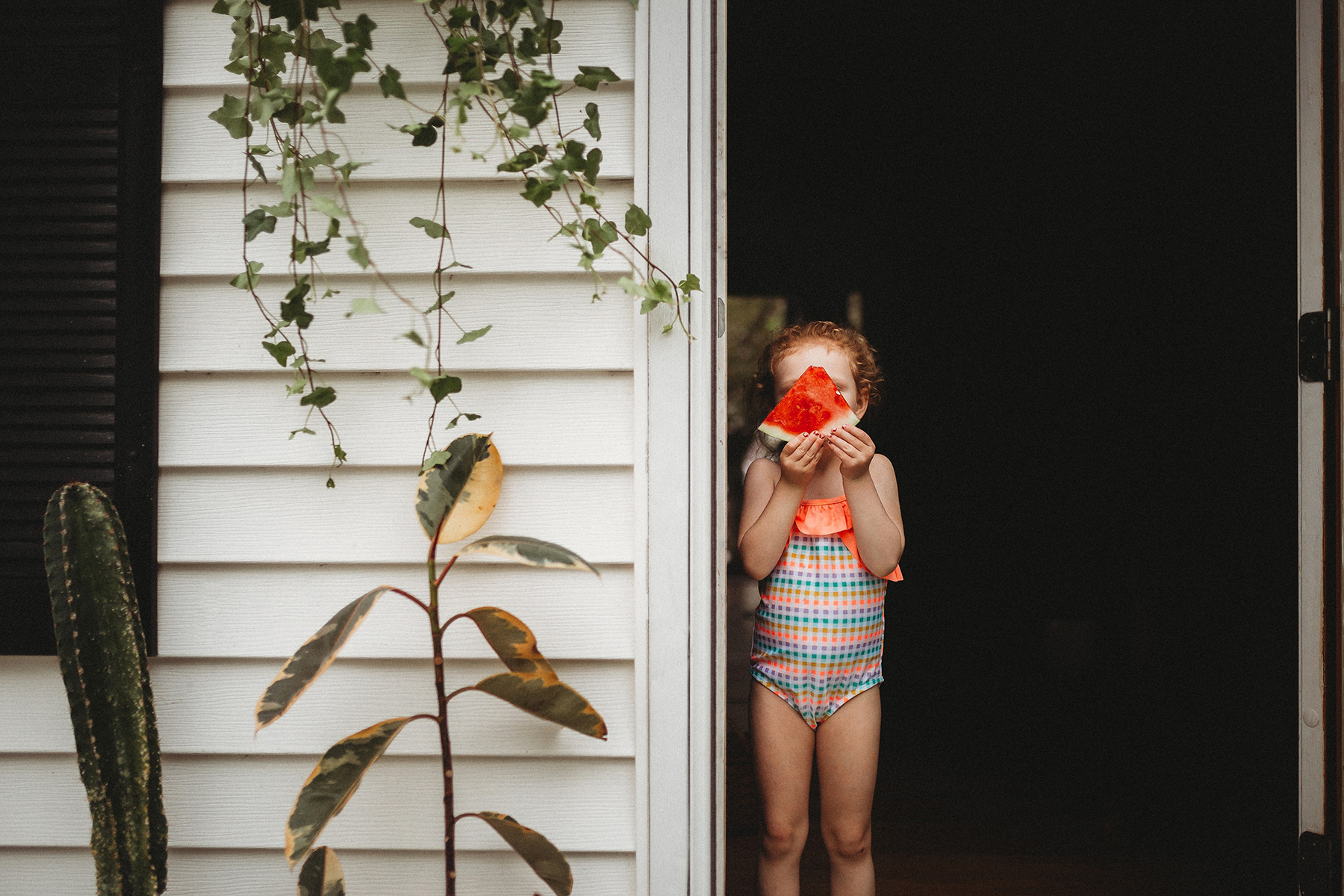 Sarah Reynolds + The Story Behind
This week in our The Story Behind series, we are showcasing Sarah Reynolds. We came across her darling photo while browsing our IG tag feed. Even though many of us are experiencing some colder temps, we hope this little number will help you recall the long, warm days of summer. We love how Sarah used leading lines and the doorway to frame her cute little subject and of course those pops of red from her hair and tasty treat really draw the viewer in. We reached out to Sarah to see if she would honor us and answer a few questions on how this image came to be. Lucky us, she said yes so keep reading to learn more.
IG Handle:.
@two.littledarlings
When did you discover your passion as a photographer?
I really started to become interested was in high school but I always knew it was something I enjoyed. I took a few photography classes and then I ended up working in a portrait studio and then I got married and had kids and they became my inspiration to keep picking up the camera and I eventually started my own business.
What inspires your art?
My children mostly. I love to capture the little moments (and the big ones) but the things that happen in between all the major events in life. Rainy day snuggles. Dirty toes in the summertime. Playing dress up. Helping Mama with the plants. All the things I want to remember when they're older and on their own and I know they're gonna thank me for it later in life.
Where is your favorite place to create/photograph?
Honestly anywhere. I could chase my kids around and take photos of them all day. I love having the memories to keep forever.
Where was this photo taken?
At home. Buffalo, NY.
DSLR, iphone, instant or film?
DSLR | Canon 6D | Sigma 35mm lens.
What were your camera settings for this image?
ISO 800, f1.4 and 1/1250
Can you tell us "The Story Behind" this shot?
It was one of the first hot days at the start of summer, we just bought our first watermelon of the season and cut it up and I was sitting outside watching her little sister play and she walked out and just stood there eatin' her watermelon. It was nothing fancy, not staged or planned. That's usually how the majority of my photos are taken. My kids hate posing, they hate sitting and smiling for the camera which is totally okay because that's usually never what I'm trying to capture anyways!
What speaks to you about this image? What specifically made you press the shutter?
All of it. I love everything about this photo.
What was your composition technique with this shot?
There was really no technique used for it. I just turned around and saw her standing there and told her not to move.
Did you have any lighting challenges/How did you light the image?
We were outside – it was in the afternoon – so it was all natural lighting.
Did you use any special techniques – freelensing, prism, etc?
Nope!
Was this photo happenstance or did you visualize it prior? If so, how did you envision the image and set up for it?
It just happened. No planning!
Did you use a preset to edit this image, your own selective edits or a combination of both?
This photo was edited with the SMAL/SOULMATE presets – but also with my own tweaks
Continue to follow more of Sarah's beautiful work at the links below:
FACEBOOK | INSTAGRAM | INSTAGRAM