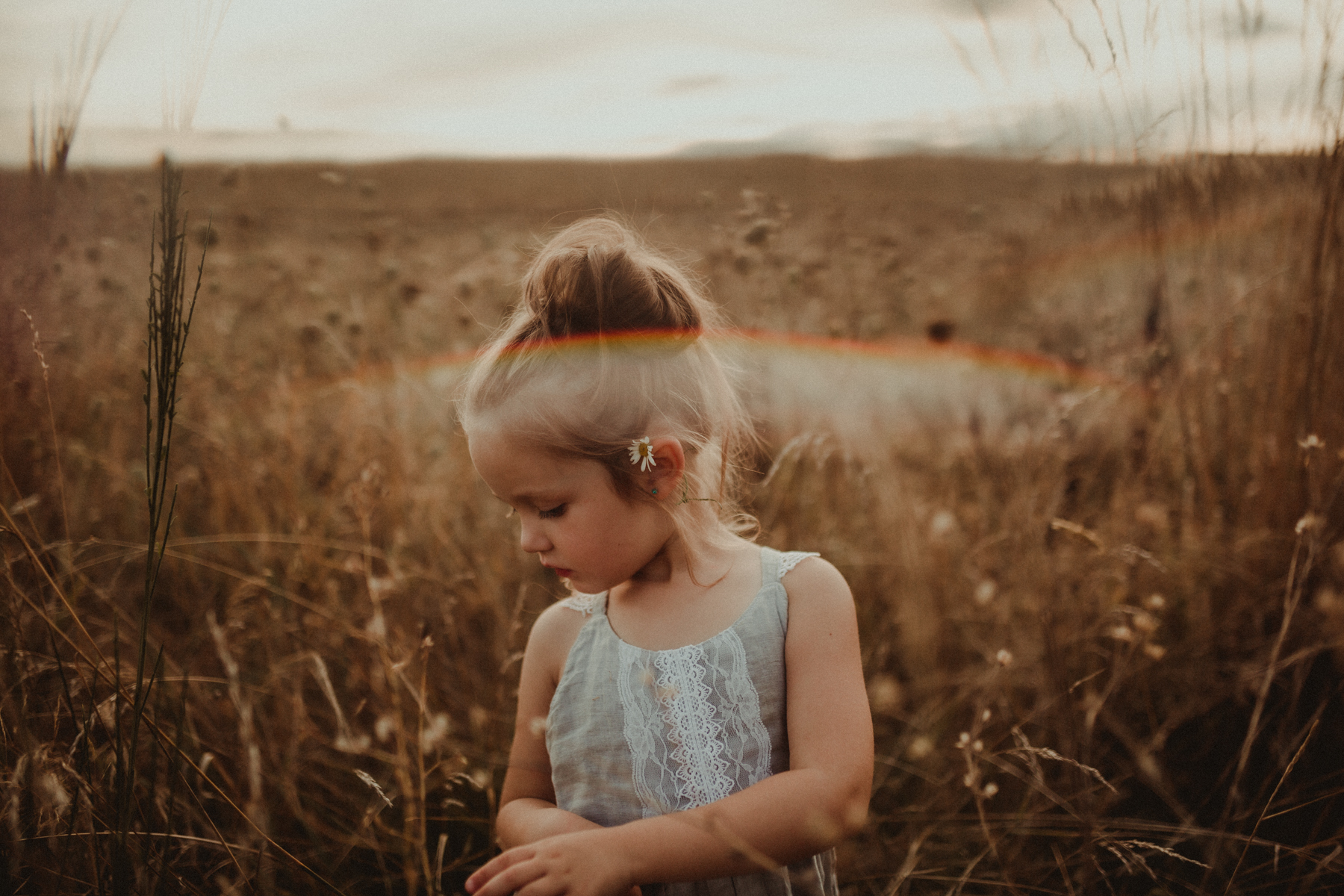 Summer Hughes + The Story Behind
Lets talk about group projects. If you've been a part of one, you know just how incredible they can be. Not only do they push you outside of your comfort zone, they also introduce you to people with likeminded interests and can produce lasting friendships. Group projects can represent just about anything like a theme, a location and/or in this case, a darling little dress. When we spotted Summer's dreamy image in our IG tag feed, we were immediately drawn to the feeling of summer highlighted by the beautiful colors, the little flower behind her ear and of course the rainbow. We wanted to know more about it so we reached out to Summer to see if she would be up for our The Story Behind series and we were delighted she said yes. Continue reading to learn how this sweet image came to be.
IG Handle:.
@witandwhimsycreative
What inspires your art?
My art is largely inspired by light and natural interactions where my subject appears to be lost within the moments and environment. I love to create and capture atmosphere in nature using the available light and tools like prisms to add to the dreamy feel that I'm so drawn to.
Where was this photo taken?
Powell Butte Nature Reserve in Portland, Oregon.
How did the location add or hinder to your image?
I took these right after the sun disappeared behind the hill, creating a soft even light. The tall, golden grass added texture and interest. This location absolutely made this photo come to life.
DSLR, iphone, instant or film?
DSLR | Canon 5D Mark III | Sigma Art 35mm lens.
What were your camera settings for this image?
The settings were ISO 100,f1.4 and 1/640 sec.
Can you tell us "The Story Behind" this shot?
I participated in a Traveling Dress Project where eleven artists, eleven daughters in eleven cities each wore this one dress. Each of us, with our own unique artistic style and creative voice, made a collection of images with our daughters and a single dress. This was taken during my week with the dress and I wanted to create dreamy images in a setting with lots of soft textures and subtle light. My daughter felt like a magical princess when she put this dress on, I wanted to show her just how lovely she was.
What speaks to you about this image? What specifically made you press the shutter?
I just loved how my daughter was looking down towards the grasses below her – she had forgotten about the camera and just looked so graceful and innocent within the tall grass. I loved how her loose hair was illuminated in the light, falling softly on her neck. The rainbow showed up at the perfect in-between moment and I knew I had my shot.
What was your composition technique with this shot?
I wanted this shot to be centered to focus solely on my daughter, the details within the dress, the flower she tucked behind her ear, and the rainbow which appeared perfectly over her head. The rainbow truly helped me further decide to center this composition.
Did you have any lighting challenges/How did you light the image?
This was all natural lighting. I originally wanted a backlit, golden hour image. However, the sun set behind a hill before we made up for sunset. What I ended up with was the very end of golden hour + the beginning of blue hour which created a soft and even light with beautiful warmth. It wasn't how I had originally planned, but I love how the low light made this feel slightly more ethereal.
Did you use any special techniques – freelensing, prism, etc?
I used an antique prism in front of my lens to create the rainbow flare effect.
Was this photo happenstance or did you visualize it prior? If so, how did you envision the image and set up for it?
This image was part happenstance, part visualized. I loved this spot within the tall grass- the golden hues of the sky enhancing the golden grasses. I knew I wanted her right in the middle of the blades of the grass, I love how they add visual interest and also show her size. The happenstance was the rainbow – I frequently use prisms but often times the results are a total happy accident, like this one.
Did you use a preset to edit this image, your own selective edits or a combination of both?
I used Jacob Loafman's LOAF preset as a jumping off point for this edit.
Do you have any addition information you would like to share with our readers?
This photo was from a collection. If you'd like to see more you can view them here: Gray Lace Traveling Dress
Continue to follow more of Summer's beautiful work at the links below:
SITE | FACEBOOK | INSTAGRAM