The Creative Collaboration Vol.II with Belle Lumiere Magazine
We are so stoked to partner up with the creatives at Belle Lumiere Magazine to bring you The Creative Collaboration Volume II!
So you might be asking what is the Creative Collaboration? Belle Lumiere's Creative Collaboration is a group of educational materials curated from the best in our industry and highly discounted just for you.  But there is a catch.  This special is only available for 10 days. That's it! Through October 30th you can take advantage of grabbing up 7 of the industries top guides / classes / and videos (PLUS) a $99 credit to thelawtog, all valued at over $1.1k for only $99.  That's over 90% off!!
Now let's get down to the good stuff and chat about what's included. There are 8 phenomenal goodies included in this incredible offer!
You get all this for just $99! You seriously can't beat this amazing deal! Below is a breakdown of each of the creative's products:
Gina Weathersby: Natural Light Food Photography Narratives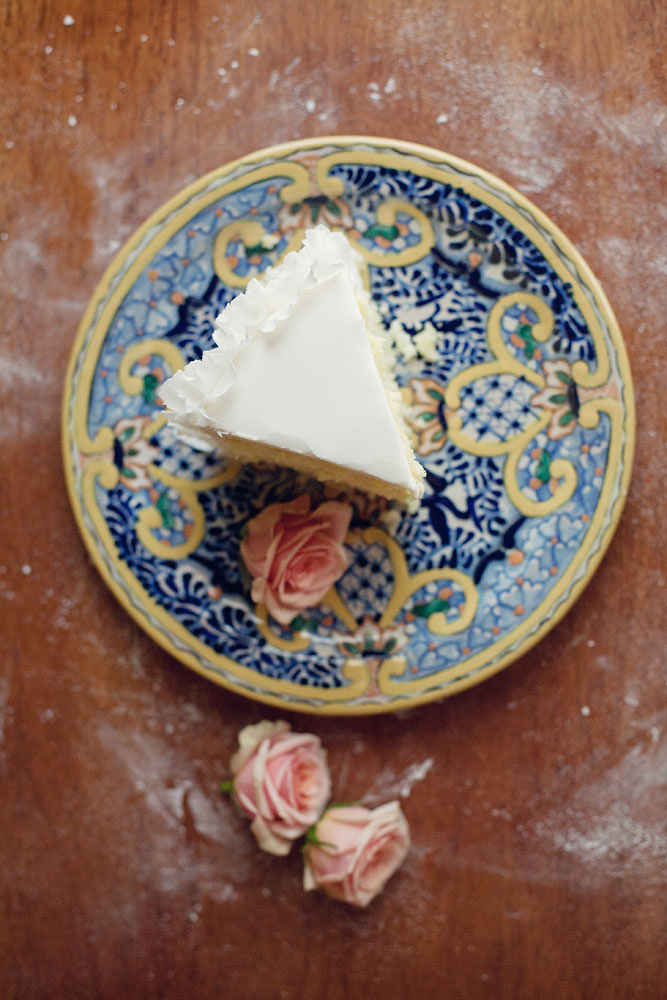 This workshop is all about making beautiful images of food using natural light, simple styling as well as telling a story around it. Seeking the one perfect image is wonderful, but capturing a narrative pulls your viewer in deeper, and keeps them engaged.  Let me share with you what I have learned and what I know about making beautiful and engaging images of food by using solid techniques, and a creative heart through descriptions, visual examples, demonstrations, and optional shooting assignments.
This workshop is for food bloggers, recipe developers, food writers, and yes – even wedding and family photographers incorporating food into your sessions – It's for anyone wanting to learn or improve the quality of your images and/or how to approach, set up, style and make beautiful images of food using natural light in the simplest of settings.
Kristin Sweeting: Pricing for Profit – For Film/Hybrid Wedding Photographers & Guide to Growing Your Profits with ALBUMS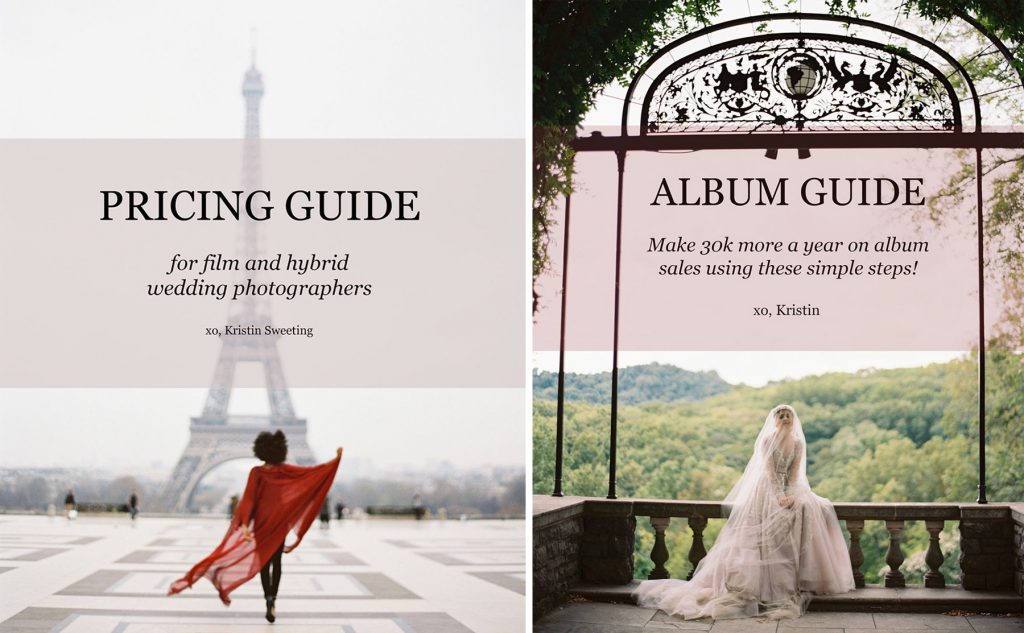 We as creatives are the worst at pricing our own work! Pricing and profitability is a struggle for SO many photographers out there, and you are fighting against the tide to make sure you are profitable AND producing work you're proud of! This guide was made to help figure out where our pricing needs to be and gives you the tools to plug your own numbers in and work it out for your business! 
This guide is specifically geared towards film and hybrid photographers, because while film is making your work shine above the crowd, it also might be hurting your piggy bank, so let's fix that!
Selling albums is one of the best and fastest ways to increase the profitability of your wedding photography business. Albums are the best way for your clients to view their work over the long term, and this guide shows you all you need to know about how to add albums in to your business plan. This 16 page guide was made to help you grow your business through album sales. Includes pricing strategies, how to talk about and sell albums, sales techniques, recommended album and design companies, increasing your businesses profits, and more!
Eden Strader: Your Guide to IG
Sick of stressing over Instagram? Not sure how to gain clients, combat the algorithm, and get your work seen? Not any more. It's time to dive into instagram with a new perspective. It's not all about the algorithm, and it's not all about the followers. Followers don't buy. CUSTOMERS buy. Let's connect you to your customers.
Lindsay Davenport: Editing Bundle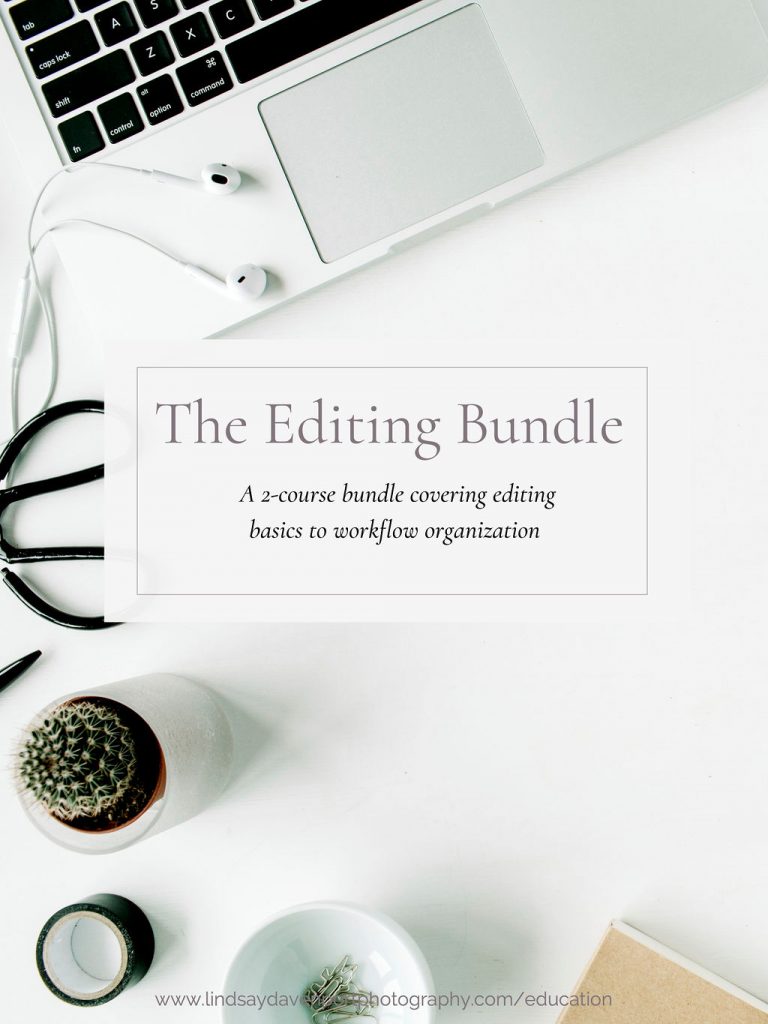 The Editing Bundle is a 2-course package that was created to cover all of your editing basics in Lightroom. It delivers a value-packed education on editing in Lightroom, as well as diving deeper into the more nitty-gritty details of culling, blogging and the professional workflow that comes with simply dealing with high volumes of images as a professional photographer.
    •    The Lightroom Editing Course contains over 5 hours of broken down instruction starting from importing with organization to editing with presets, "batch editing" (aka saving YOU time) and exporting.
    •    The Editing Workflow Course is just under 3 hours worth of content that saves you time as a professional. This course is guaranteed to give you confidence in your culling and editing workflow as you approach it with more of a system.
• As a bonus, it even dives deeper into how to blog using BlogStomp, post a "Same Day Wedding Slideshow", outsource to editors and design and order albums using AlbumStomp. With nearly 8 hours of broken down instruction that's easy to navigate through nearly 50 individual video modules, your editing journey has just been made simple using The Editing Bundle
Natalie w/Jade Magnolia: A Detailed Guide to Beautiful Flatlays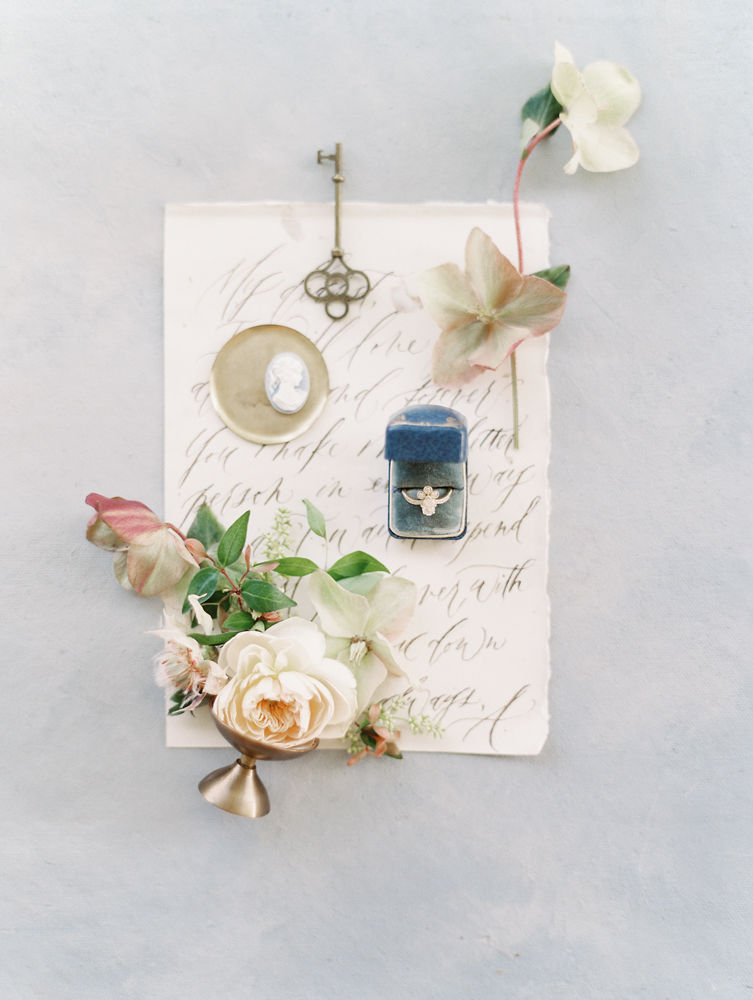 Most weddings don't come with a flatlay stylist so this task usually falls onto the photographer; which can be difficult with tight timelines and so much pressure for the details to be styled perfectly. In this course you will learn how to build a practical and universal styling kit, how to efficiently style the details on the wedding day, and how to make them stunning for your photos. My goal is to help you feel prepared so that you can quickly style all the details without taking up too much of your timeline. You will also learn how to make each one beautiful to insure happy clients, grow your portfolio, and help your weddings get published. Included are:
How to build your styling kit and where to source items
The process of flatlay styling
How to style wedding invitations, from one piece to large invites
Invitation layouts
Styling bridal details
Styling groom's details
Styling other wedding day details
D'Arcy Benincosa: The Art of the Client Proposal
Over the last several years of pitching to wedding, branding, commercial, and consulting clients, I've used the art of the proposal. I've been fascinated by the psychology behind purchasing decisions and I've put together a comprehensive course and guide full of what has helped me become successful in customizing my proposals and ultimately booking more clients. What's included:
How to up level the type of clients you're booking
How to charge what you're worth
The psychology behind purchase decisions and how to increase your success rate
Creating customized proposals
A complete checklist for your proposals
5 Examples of my customized proposals
The Lawtog: $99 credit to thelawtog.com (Legal Resources for Photographers)
Headed by Rachel Brenke, TheLawTog is the only dedicated resource for photographers.  With practicing lawyers, business consultants, CPA, financial planners (and more!) you'll get information with first-hand experience to help your photography business. Enjoy a $99 credit to use towards anything in the store.
So don't wait because come October 30th, this offer expires! Grab all these extraordinary guides, PDFs, downloads and videos today by visiting this link!