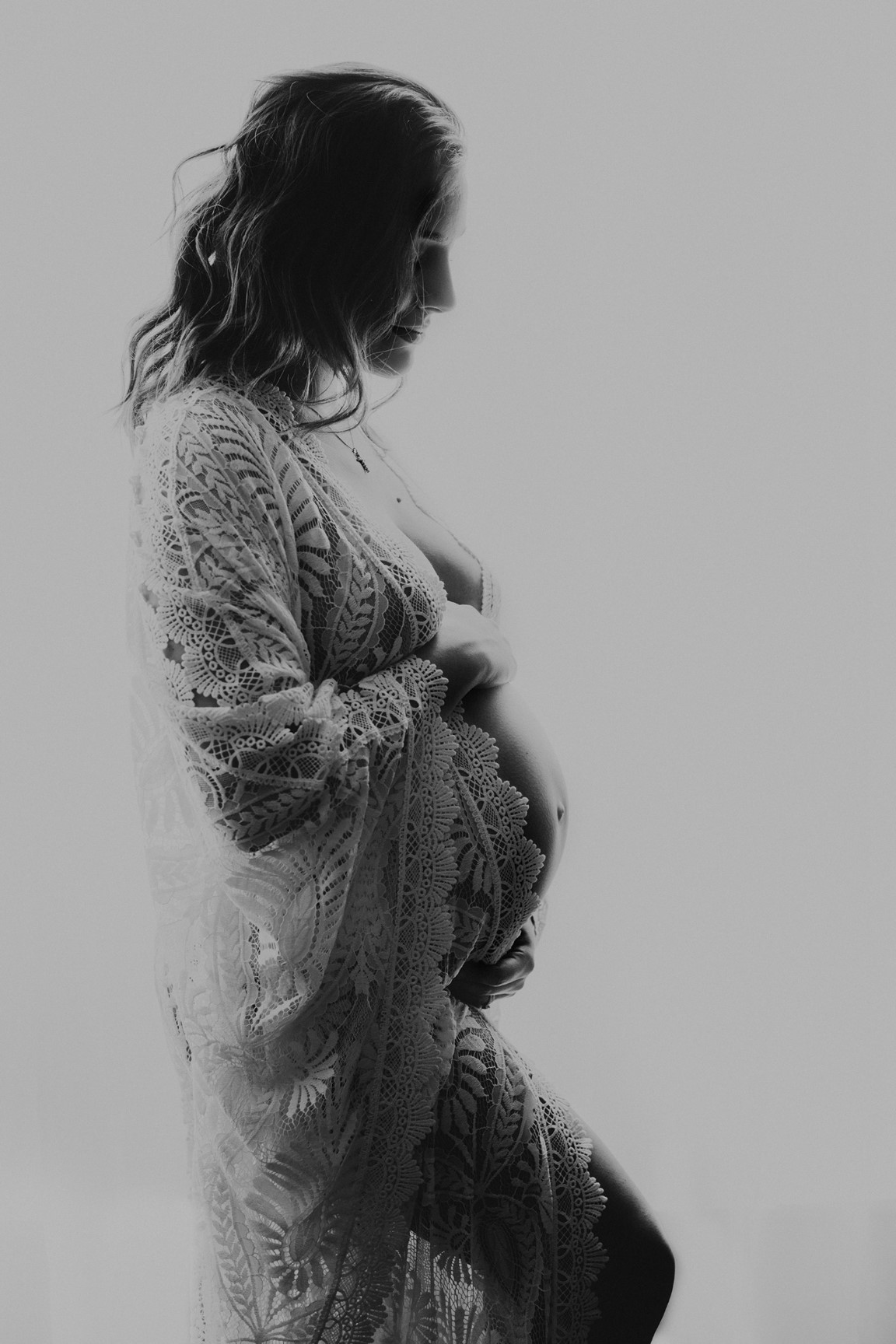 Jessika Hill + The Story Behind
The moment we saw Jessika's image in our hashtag of photos on IG, we were immediately captivated! The backlighting that surrounds the soon-to-be-mother is beautiful. The texture of her gown draws your eye in and then to finish it off with a moody black and white conversion…..HELLO! We are so happy to have Jessika here today in this installment of The Story Behind. Continue on to learn the backstory of her image. Happy reading!
IG Handle:.
@jessikachristineintimates
What inspires your art?
My clients inspire me. I love being their story teller.
For my own creative sessions music and nature inspire me a lot.
Where was this photo taken?
This photo was taken in my studio! It's in front of the windows, covered by sheer curtains.
How did the location add or hinder to your image?
The location added to this session, because I wanted Emily to be the focus. I didn't want a distracting background in the images. I also knew I could get this dreamy light in front of the windows. It perfectly highlights her tummy!
DSLR, iphone, instant or film?
DSLR, Canon 5D Mark IV with a 50mm 1.8 lens.
What were your camera settings for this image?
1/250 sec at f3.5.
Can you tell us "The Story Behind" this shot?
This shot is telling the story of this mom having her first baby girl. The light is meant to highlight her tummy. The white, lace robe makes the image more delicate and feminine.
What speaks to you about this image? What specifically made you press the shutter?
The way Emily is looking down and smiling speaks to me. She's ready to meet her baby girl and you can feel the joy she is feeling!
What was your composition technique with this shot?
The composition was focused on the light. I wanted Emily to be the focal point with a dreamy white light around her.
Did you have any lighting challenges/How did you light the image?
No challenges with lighting, because we were in my studio. The lighting was very controlled by the windows and sheer curtains.
Did you use any special techniques – freelensing, prism, etc?
No fun techniques this time! I was going for a minimal image with Emily as the focus.
Was this photo happenstance or did you visualize it prior? If so, how did you envision the image and set up for it?
I did visualize this shot before hand. I didn't have to do a lot of prior set up though. I asked Emily to stand in front of the window, adjusted my camera settings so the light was perfect and asked her to hug her belly.
Did you use a preset to edit this image, your own selective edits or a combination of both?
Yes I used a preset with my own tweaks. I used the BW Dirtybootsandmessyhair preset.
Do you have any addition information you would like to share with our readers?
When I was photographing Emily she explained her pregnancy had made her body swell pretty often. After she saw this image and the rest of her gallery she sent me a very sweet note.

"Jessika, I have been meaning to message you for a couple of days and tell you how grateful I am for the pictures you took. My body has changed so much making me wonder if I will ever love my body the same again. Your pictures remind me how beautiful pregnancy and my body are and I am so grateful!!! The quality of pictures you have given my family and I are pictures I never thought we'd be able to hang on our wall. Thank you!"

Getting a note like this is why I do what I do. I really aim to be my client's story teller!
Want to see more of Jessika's inspiring work? Follow her at the links below:
SITE | FACEBOOK | INSTAGRAM