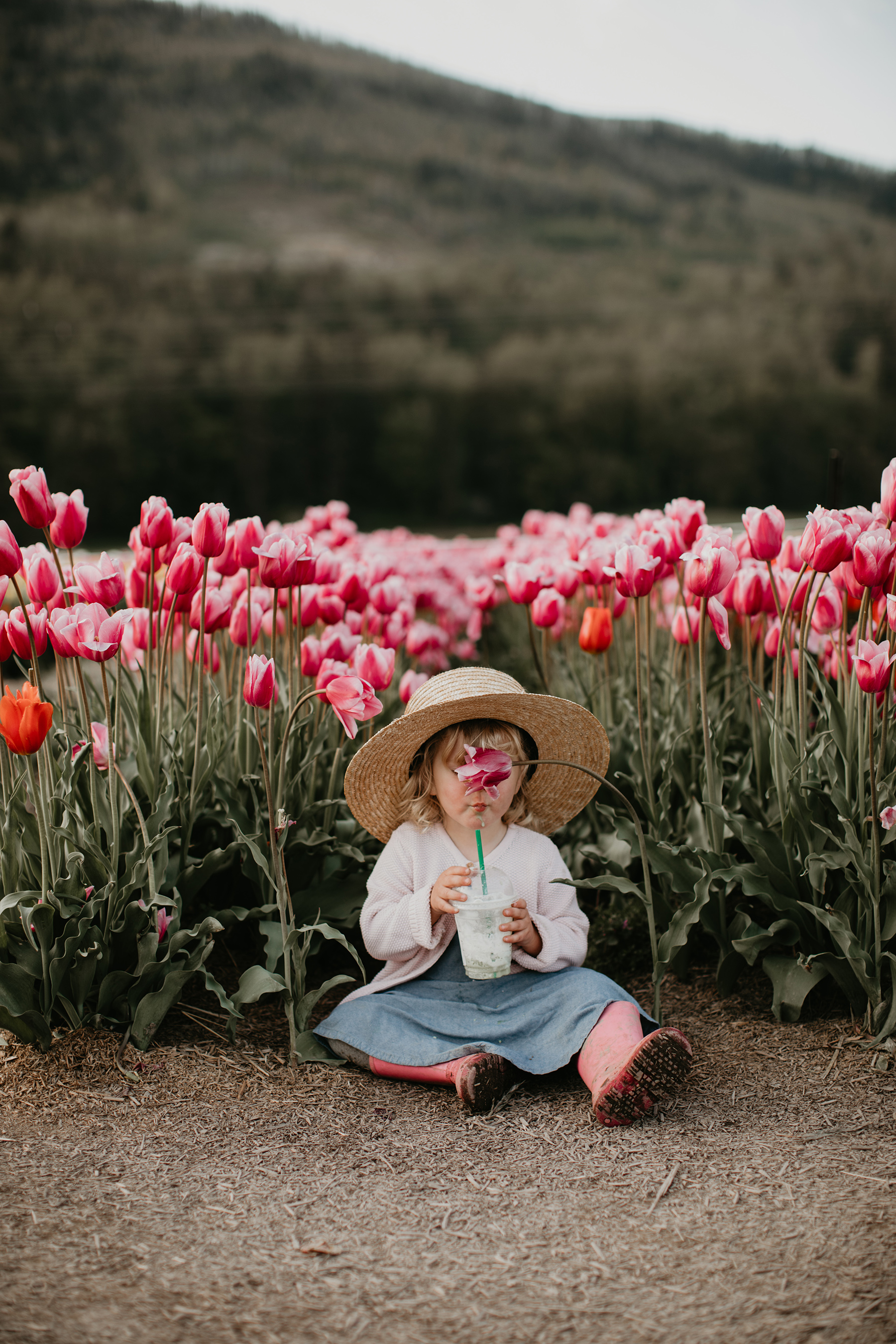 Julie Christine + The Story Behind
Sometimes the best photos we capture are the ones we never intend on getting. Case in point this adorable shot from Julie of her friend's daughter and an unruly tulip. Her photo totally caught our eye in our IG hashtag and we immediately knew we wanted to know the The Story Behind it. So lets welcome Julie to the blog!
IG Handle:.
@juliechristinephotography
What inspires your art?
Connection. I LOVE capturing families and children. Parents loving on their kids. I love the connection families naturally have and being able to freeze time for them. I want my images to bring up emotions in my clients that make them remember that stage of life and those incredibly special memories. Photography feels like such an honourable career, you constantly get to create memories for people that they will never get back and again, we get to not only freeze their moments but to some degree, the emotions as well.
Where was this photo taken?
Abbotsford Bloom Tulip Festival, in Abbotsford, BC Canada.
How did the location add or hinder to your image?
The location was obviously perfect. I didn't imagine capturing that image that night, and it was all because of the location it happened.
DSLR, iphone, instant or film?
DSLR, Canon 5D Mark 4 and shot with a 50mm lens.
What were your camera settings for this image?
1/250, f2.0, ISO 125.
Can you tell us "The Story Behind" this shot?
Honestly, we had been encouraging my friend's daughter to just take a seat in the flowers with a cute hat, and her Mom's Starbucks drink. She sat down and this single flower fell right in front of her face. My friend went to move it and I quickly snapped a few thinking it would be a cute moment to capture!
What speaks to you about this image? What specifically made you press the shutter?
Again, I think a lot of it was just capturing a cute moment.
It was covering her face perfectly, and she had spent most of her time there picking flowers. We joked that this one was her next victim.
What was your composition technique with this shot?
Center! I had already envisioned her just sitting between the rows of flowers. I love rows and straight lines in my photography so it was the perfect set up.
Did you have any lighting challenges/How did you light the image?
We shot at sunset and by now the sun was already behind the mountains but still fairly bright so the lighting was amazing.
Did you use any special techniques – freelensing, prism, etc?
Not for this image!
Was this photo happenstance or did you visualize it prior? If so, how did you envision the image and set up for it?
Totally happenstance. It was not set up at all, other than planning to capture her sitting in the row of flowers, that little flower in her face that makes the picture… it was on its own timeline.
Did you use a preset to edit this image, your own selective edits or a combination of both?
Yes, I use G-Presets with lots of tweaks!
Do you have any addition information you would like to share with our readers?
This photoshoot was for my dear friend, Codi @creativewifeandjoyfulworker, who was working with Bloom at the time. Her kids are always quite comedic and easy to photograph, so although this night, in particular, they were picking tulips non-stop and photobombing everyone else's photos, they made for some adorable photos I share on my blog!
Check out more of Julie's amazing work at the following links:
SITE | FACEBOOK | INSTAGRAM