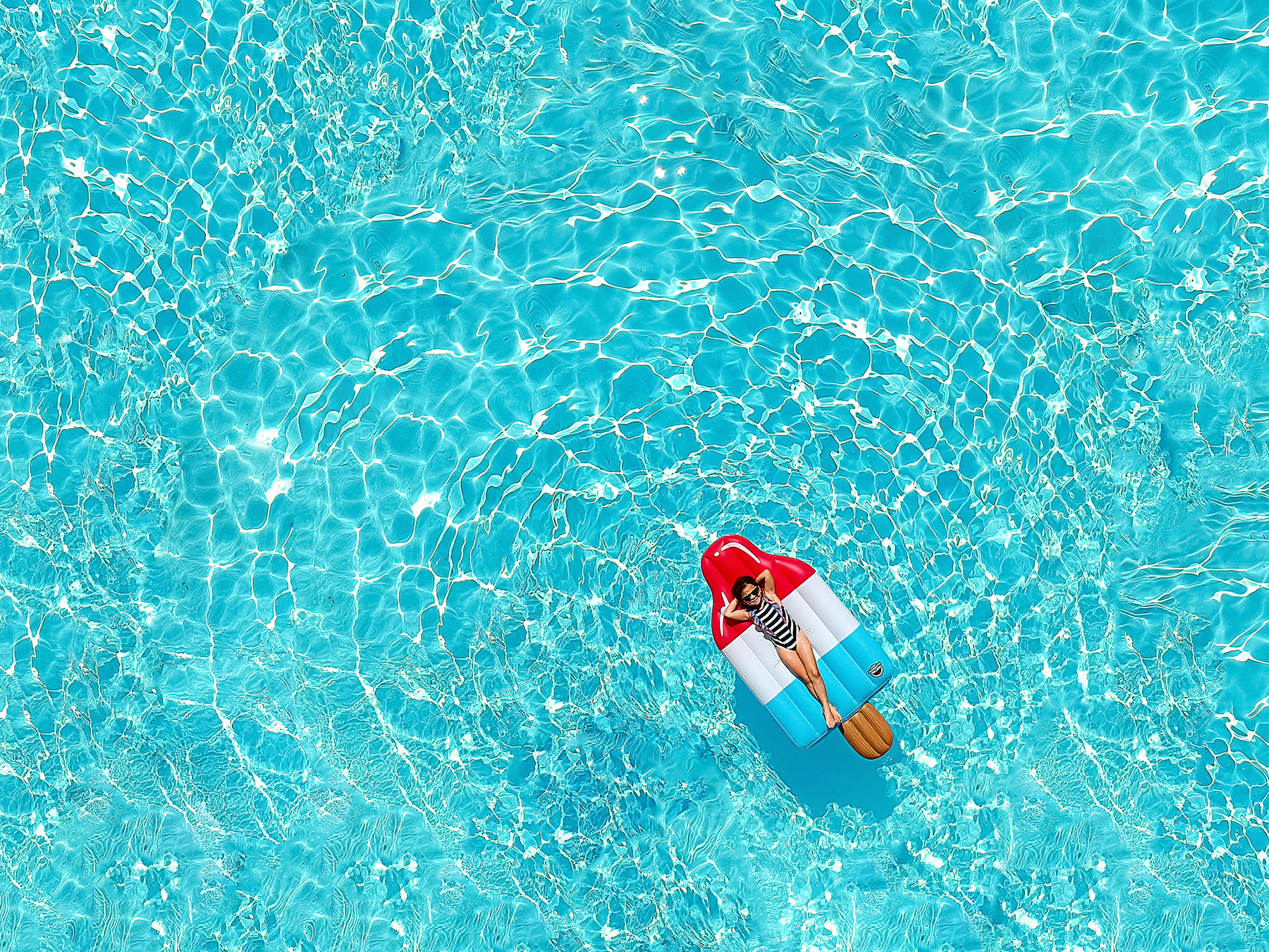 Laura DosSantos + The Story Behind
Many of us have kids going back to school this week so we wanted to extend the summer feeling a little longer with this awesome photo from Laura! The bird's eye view and the sea of blue with the little pop of color had us swooning when we spotted it in our IG tag. We are so happy that Laura is on the blog today and sharing The Story Behind this enduring photo:
IG Handle:.
@lauradossantos
What inspires your art?
My kids mainly inspire my art. I have two children – 8 and 5 in which I get all of my inspiration from. They are totally opposites and I feel it reflects in the pictures I take of them. My son, while he isn't quiet, he is soft and reserve. My daughter is my wild child – the rule breaker who isn't afraid to be herself or speak her mind. And while that is daunting at times as her mom, it is also totally freeing as an artist.
Where was this photo taken?
This photo was taken in our backyard. We reside in Chicopee, MA.
How did the location add or hinder to your image?
The location is the pool in our backyard and it is definitely not as big as it looks! This was shot with my DJI Spark Drone and it was not super high up in the air as we live too close to an airport. There was a lot of clone work going on in post process.
DSLR, iphone, instant or film?
DJI Spark Drone.
What were your camera settings for this image?
Drone Auto.
Can you tell us "The Story Behind" this shot?
I've had an over the pool shot in my head for a while. I just didn't know exactly how it was going to come together. Right before the 4th of July, this new float was delivered and I knew what I wanted. My daughter who is usually up for a quick photoshoot (as long as it is quick!) was up for the task and out to the pool we went. Drone work with her is sometimes difficult. She isn't 100% used to the drone and the sound it makes so it makes her quite nervous sometimes. We talked about what we were going to do not giving her too many instructions – "I want you to lay on float on your back in the pool. I will fly the drone over you and take some pictures and then we can be done." She was game! I knew as long as I captured her personality I could work with the rest of it in post processing.
What speaks to you about this image? What specifically made you press the shutter?
My daughters posture on the float is what speaks to me most. I took a bunch of shots in this series but this was the one the stuck out. Her body position is HER to a T! She is so confident in herself at 5 and it just amazes me.
What was your composition technique with this shot?
My composition with this shot is 100% Rule of thirds/negative space. I wanted to capture how big her personality is in comparison to how small she is. I think she did that with her own pose and I helped it along with the composition showing how tiny she is in this big world (or big pool!).
Did you have any lighting challenges/How did you light the image?
I actually had no challenges with the lighting in this picture. This was shot in full sun about 10:30 am. The drone settings were set to auto (which I'm totally not used to as I normally shoot in manual with my canon 6D!). I did do a pre-flight check to make sure that I wasn't blowing any highlights. Looked good so we just went for it.
Did you use any special techniques – freelensing, prism, etc?
No special technique with this shot.
Was this photo happenstance or did you visualize it prior? If so, how did you envision the image and set up for it?
I did visualize this prior. Normally I write down 1 or 2 words of shots I have in my head and I keep a list of them on my phone. I learned early on that if I have something so perfectly in my head and my kids or some other element that I have no control over doesn't do what I envision, I am extremely let down. This way I can let the scene also naturally play out and still be happy with my shot.
Did you use a preset to edit this image, your own selective edits or a combination of both?
No preset was used on this image – only hand editing in both Lightroom and Photoshop.
Do you have any addition information you would like to share with our readers?
Another question I received on this image was: How big is your pool? It is a 24′ round so definitely a lot smaller than this images leads on. You can create magic with anything!
You can see more of Laura's incredible work at the links below:
SITE | INSTAGRAM