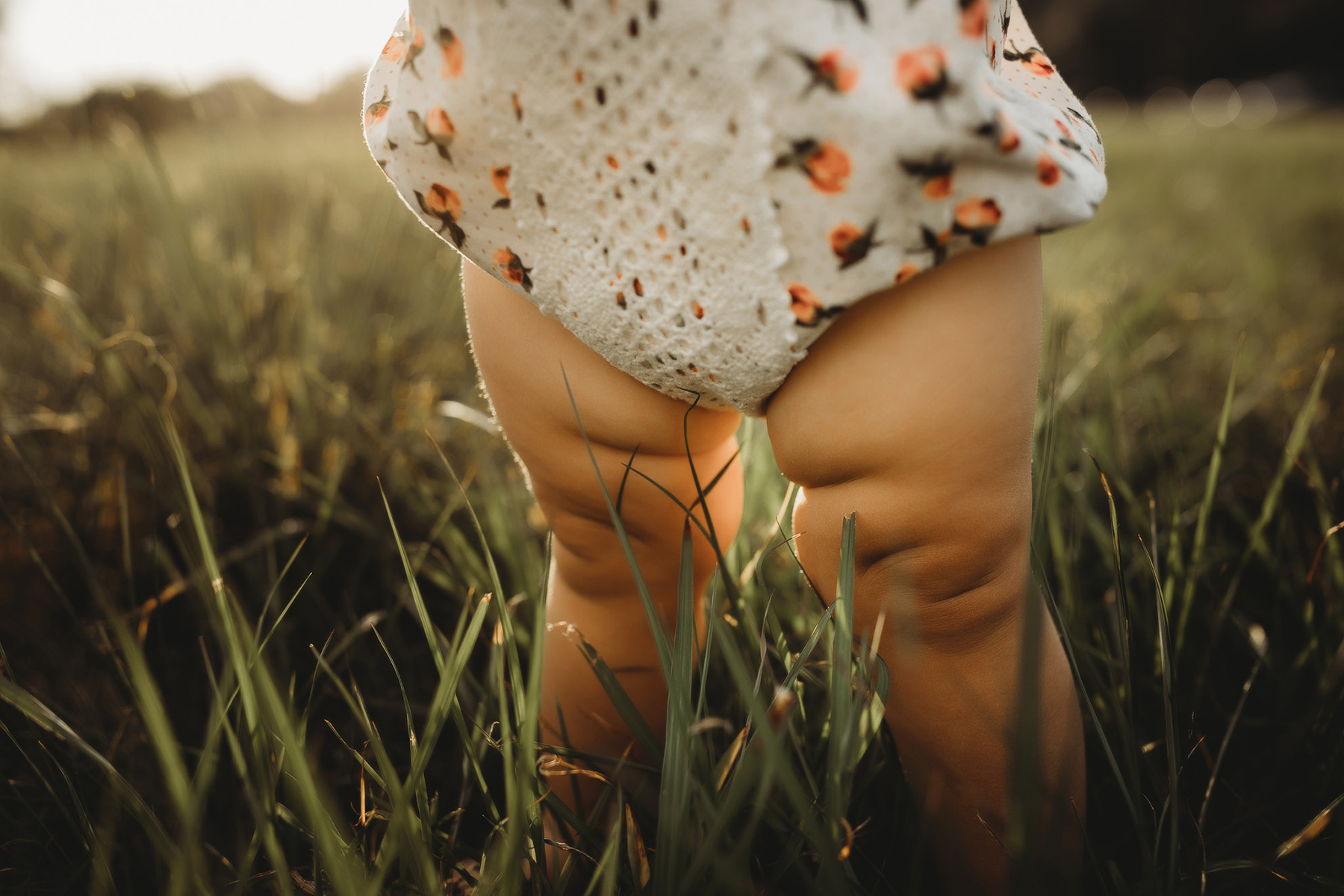 Lindsay Lago + The Story Behind
Every once in awhile, we come across the MOST enduring photo in our IG hashtag. Lindsay's photo of this little chubby legged, floral romper wearing cutie was just one of those. We love how it proves that faceless photos can have a powerful touch on the viewer and draw deep emotions. For us, we couldn't stop smiling at it and reminiscing of the days when our kiddos where around that age. That's the power of photography folks!
Keep reading to learn the The Story Behind Lindsay's adorable light-fulled image:
IG Handle:.
@lindsaylagophotography
What inspires your art?
My art is inspired by moments, interactions and light. When I'm at a session and the sun is dripping with a gorgeous golden color I know I'm about to create magic. I look for the moments that I'd want to remember with my own children or loved ones and I try to capture that for my clients. Photographing the small details we tend to forget is one of my favorite parts. Whether it be an over the top laugh from a child, the way they inspect a pile of dirt and rocks they just stumbled upon or in this case, the chubby little rolls from an innocent little baby girl. I want to tell the story of that moment in time.
Where was this photo taken?
This photo was taken at Robins Lodge Park in Davie, Florida. This park is a 60 acre park with open fields and horse trails along it's entirety. It's a quiet little neighborhood gem.
How did the location add or hinder to your image?
This location was perfect for this image because it allowed the baby to explore a big open field with the sun setting behind her. I knew I had plenty of room to work with so I just let her go at her own pace. The field had small flowers and it was just enough to catch her attention for a detailed shot like this.
DSLR, iphone, instant or film?
DSLR, Canon 5D Mark IV. I used my Canon 35mm lens, which I use for the majority of my photography.
What were your camera settings for this image?
ISO 100, f/2.5, 1/640.
Can you tell us "The Story Behind" this shot?
This image was from a first birthday cake smash session. The session was very "Earthy" and simple as far as the set up. She had just finished devouring half of the cake, but Mom took it away because she was afraid she might get sick. She was NOT PLEASED! In fact, she was hysterical! So as Mom tried to clean up a bit, thinking the session was over, I grabbed the baby's hand and redirected her to a spot with some flowers and handed her one. I knew I couldn't take any of her face in that moment because she had been crying so I focused on trying to get some detailed images.
What speaks to you about this image? What specifically made you press the shutter?
These baby thighs were the kind of thighs you can't help but pinch. (Somehow I held myself back!) For this image, I crouched down to her level and I loved how the grass framed those chubby little legs. It was as if a spotlight was right on them. I pressed the shutter and I knew instantly that this was going to be one of my favorite images from this session. Turns out…it was a favorite for others too!
What was your composition technique with this shot?
For detailed shots, I try not to ever shoot center. Since this shot was up close, I went just over a pinch from center to make it more interesting to the eye. To be honest, sometimes when it is happening so fast I'm more focused on light and what I'm trying to covey in the image.
Did you have any lighting challenges/How did you light the image?
The lighting was not a big challenge for this image. The sun was setting so it was not harsh on this little girl. I positioned the baby so that the image was backlit and her leg would filter a lot of the sun. I was able to defuse the sun just enough to get the image I wanted.
Did you use any special techniques – freelensing, prism, etc?
I did not use any special techniques for this image.
Was this photo happenstance or did you visualize it prior? If so, how did you envision the image and set up for it?
This image was a happy accident. Many of my favorite images are a just by chance shot. I like to watch interactions and capture them as they unfold. With children especially, I like them to be in the moment and watch them as they explore or interact with the space.
Did you use a preset to edit this image, your own selective edits or a combination of both?
I used a combination of preset and my own additional hand edits. I always edit using SMAL presets by Sven Malojilo.
Do you have any addition information you would like to share with our readers?
This image is my most popular image to date. I was featured on 5 different photography platforms from my Instagram post. I had tons of comments, DMs and likes about this image. I posted it and it spread like wild fire. It was really rewarding to see!

Check out more of Lindsay beautiful work at the following links:
SITE | FACEBOOK | INSTAGRAM