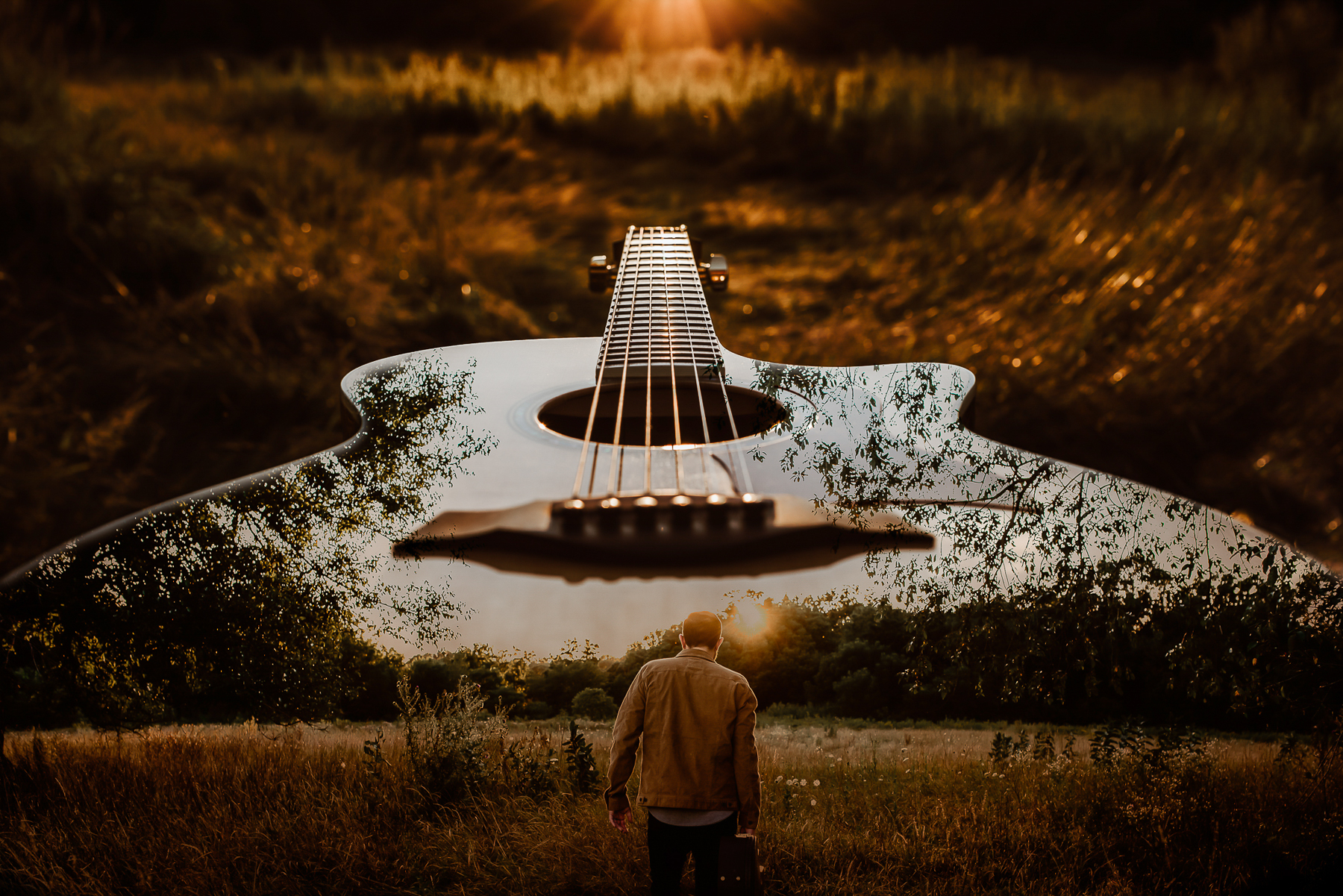 Meghann Edgerton + The Story Behind
Sometimes, we come across a photo in our IG tag feed that stops us in our tracks and from the loves and likes that it received on IG and Facebook, we weren't alone in our love of it. One of the many things we love about photography is the freedom to create what you visualize in your head and Meghann did just that. Keep reading to see how this stunning photo came to be and The Story Behind it.
IG Handle:.
@indigo.skye.photography
What inspires your art?
Emotion is probably what inspires me the most. As I mostly photograph kids and families, I am always looking to capture those moments that bring emotion. Many of my clients message me and say their gallery brought tears to their eyes and that's exactly what I want. This particular image however was a different project. I was working on promo photos for Brian Allison Music for his upcoming tour and we had talked about him walking away down a road or path which is how this started.
Where was this photo taken?
Leroy Oakes Forest Preserve, St. Charles IL.
How did the location add or hinder to your image?
The location was perfect really. Here where I live I haven't found a lot of places with a really good golden hour apart from this location and because I wanted him walking into the sun this spot was great.
DSLR, iphone, instant or film?
DSLR | Nikon D750 and shot with a Sigma Art 35mm.
What were your camera settings for this image?
1/320, f2.0, ISO100 for the guitar photo and 1/320, f2.2, ISO 160 for the image of him walking away.
Can you tell us "The Story Behind" this shot?
The original plan was to get some photos of Brian walking down a path or road with his guitar case in hand because he was about to head out on a big tour. We always try to get photos he can use for his tour dates so I try to plan for some negative space for that. We did get some of him walking down the road but I had this idea to get a double exposure with his guitar so that the strings blended with the road and made it look like he was walking down the neck. It just wasn't lining up right in camera though so I took a handful and moved them into photoshop to try doing the same thing. As I was adding the photo of him and moving it around it just kind of fell into place at the bottom and I loved it so I went from there with blending and all that.
What speaks to you about this image? What specifically made you press the shutter?
Always the light. For both photos the sun was gorgeous. For the guitar photo I had him hold it up in a way that it would reflect the sky and we have a few of those simple shots too that just turned out amazing.
What was your composition technique with this shot?
Center – This session was for posters, events etc so I kept that in mind. I also feel like with this particular shot center just has a stronger look than anything else.
Did you have any lighting challenges/How did you light the image?
No challenges. It was a perfect evening light which is my favorite.
Did you use any special techniques – freelensing, prism, etc?
Not while shooting these. Just the photoshop overlay after the fact.
Was this photo happenstance or did you visualize it prior? If so, how did you envision the image and set up for it?
I think I said all of this above but I did plan for this somewhat but it's not exactly how I visualized it. I did that as well but this was just the one. I totally thew away my original plan once this happened.
Did you use a preset to edit this image, your own selective edits or a combination of both?
I used Sven Malojlo's Smal Wild lightroom presets for both images before moving them to photoshop for overlay.
Do you have any addition information you would like to share with our readers?
I can't think of anything I haven't touched on other than this image took me way less time than everyone seemed to think it might have. I had a lot of people asking how much time I spent and it was really only about twenty minutes of editing. Both shots were perfectly lit SOOC so it was really just a matter of doing the overlay and that was a pretty quick process. I've never had a response to any photo like this one got and when I first posted it in the SMAL group it got over 4K likes overnight. Very exciting for me. I'm no social media expert. At that point I started thinking, man I should have spent more time on that! But really even after that I went back and there wasn't much I could touch up. It just came together easily.
Continue to see more of Meghann's beautiful work at the following: WEBSITE | FACEBOOK