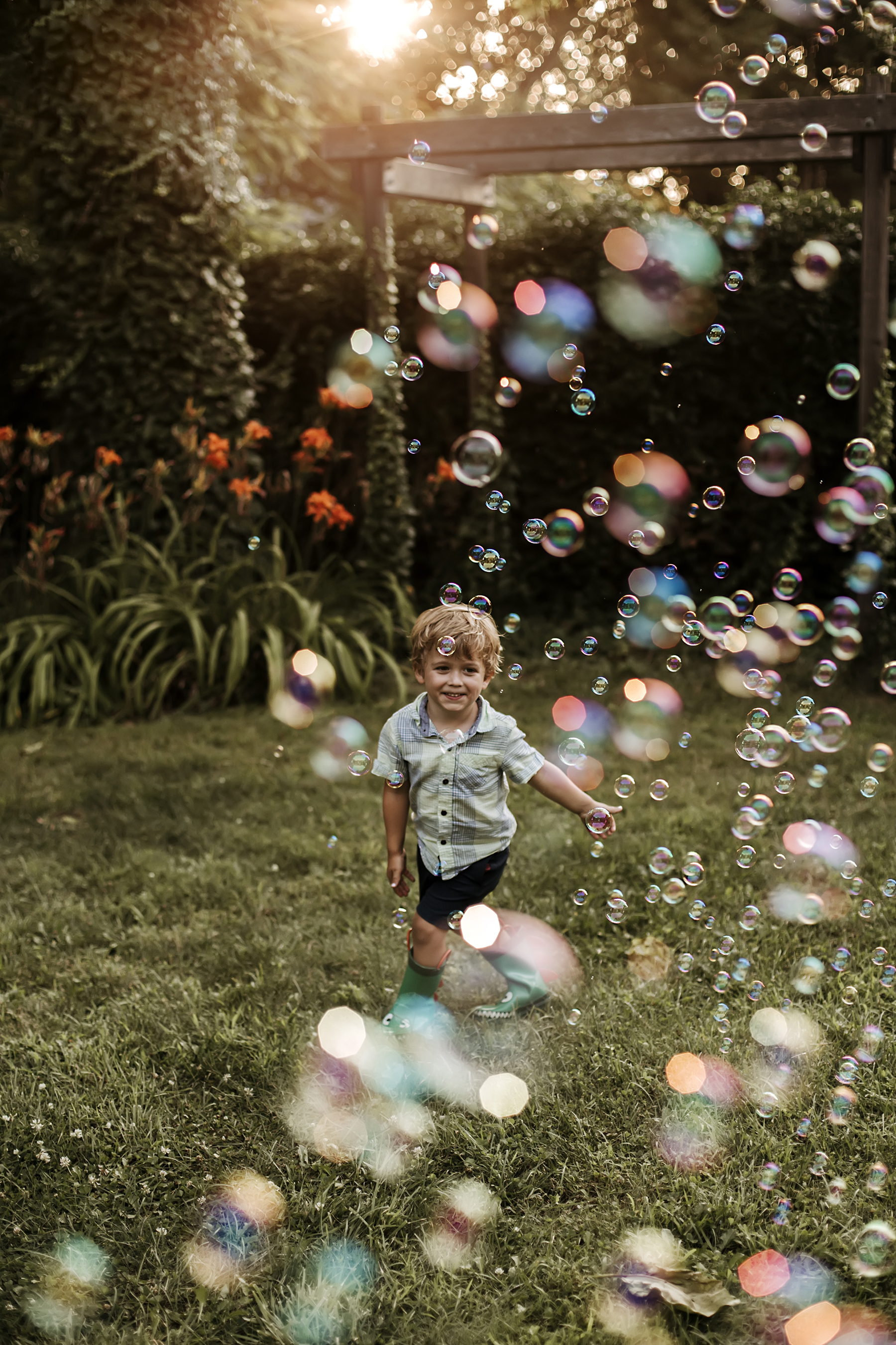 Sarah DiFalco + The Story Behind
We come across many photos in our IG tag that put huge smiles on our faces and Sarah's whimsy bubble-filled image is definitely one of them. We love the rich colors and how the bubbles reflect the light. Add one handsome little one sporting a pair of green wellies and you have the makings of a fun-filled picture! We are thrilled to have Sarah on the blog today in this week's installment of The Story Behind!
IG Handle:.
@sarahdifalcophoto
What inspires your art?
I am inspired by my children and preserving memories. I think the beauty of photography is being able to freeze moments in time and save them in a tangible way. My 3 boys who are 13, 3 and 1 are my main driving force to pick up my camera every day since I want to capture their childhoods in a way that is real, fun and beautiful. Being able to have these images to look back on not only for them as they grow but for myself is so special because this time with them is so fleeting. It is easy to forget the every day things that happen amidst the chaos and that is what inspires me to capture them.
Where was this photo taken?
In my backyard on Long Island, NY.
How did the location add or hinder to your image?
I love this location in my yard because of the way the sun sets behind the trees, it gives us amazing light!
DSLR, iphone, instant or film?
Canon 6D taken with a 50mm 1.4 lens.
What were your camera settings for this image?
f2.2, 1/1000, ISO 1250.
Can you tell us "The Story Behind" this shot?
It was my youngest sons 1st birthday and we bought him a bubble machine as a gift since he LOVES bubbles. After he opened it we turned it on and let the boys play, once I saw the light through the trees I grabbed my camera and directed them to play in that area of the yard by setting up the bubbles towards that corner. I was instantly inspired by the way the light was hitting the bubbles, and how much fun my 3 year old especially was having running through them in his rain boots. It was such a happy beautiful moment that I knew I wanted to remember forever.
What speaks to you about this image? What specifically made you press the shutter?
I feel like this image portrays my 3 year olds personality completely- running wild, smiling big, wearing rain boots for no other reason than to just wear them. I think it just defines the carefree happiness of his childhood and how it feels to be running through thousands of bubbles- like magic! The arch my husband built that we got married under is also in the background which is special to me and adds to the personal sentiment of it. I knew I had to press the shutter when he turned and I saw the huge smile on his face!
What was your composition technique with this shot?
I chose a center composition because I really wanted him to be the center focus with the chaos of bubbles surrounding him.
Did you have any lighting challenges/How did you light the image?
This image was backlit and natural light. My house acted as a reflector and I had completely open sky above me so I didn't have too much of an issue with lighting his face.
Did you use any special techniques – freelensing, prism, etc?
No special techniques in this one.
Was this photo happenstance or did you visualize it prior? If so, how did you envision the image and set up for it?
I knew I wanted to capture him running free through the bubbles but I mostly just let the moment unfold since I wanted a candid expression. I positioned myself so I would have the bubbles in the foreground to give the image some depth like you were in there with him but that is mostly it!
Did you use a preset to edit this image, your own selective edits or a combination of both?
One of Tarah Sweeneys presets and tweaked a bit!
Do you have any addition information you would like to share with our readers?
I feel as though I have recently begun finding my voice as a photographer and understanding what moves me. It can be confusing to figure out where you "fit" but since I've really focused on shooting for myself and my kids from the heart I have seen a shift in my work. I think this image really speaks to that as well.